The Vampire Diaries Season 6 is just a few weeks away from its premiere and fans can't stop thinking about the fate of Damon and Elena.
Their toxic love is at stake as the elder Salvatore brother is trapped in the Other World while Elena remains in deep grief.
The recently released trailer shows Damon (Ian Somerhalder) urging Elena (Nina Dobrev) to move on in life but she refuses and starts feeding on people.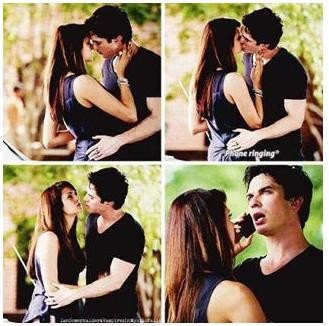 But Delena fans won't have to wait long after the season premiere, as Damon is trying hard to figure a way to get out of the Other Land and meet his lady love.
Show producer Julie Plec tells E Online that Damon's goal will be to reunite with his toxic love.
"Damon's singular goal is to get back to Elena and his brother — but that doesn't make it any easier to escape from the mysterious place that currently imprisons him," Plec told the website.
Stefan, on the other side, appears to have broken up with Caroline and was seen in bed with a new girl.
The trailer suggests that the younger Salvatore brother, who was deeply saddened by the demise of his brother, has found a new way to ease his pain (by sleeping with an unknown girl?)
Stefan's 'kissing on the bed' act in the trailer definitely raised questions about the future of the Steroline romance.
Meanwhile, E Online reports that the humans of Mystic Falls are being terrorised by some unknown supernatural creature.
The town remains under the magic spell of the Travellers who have prevented the vampires from entering their town as that would end their lives.
The Vampire Diaries Season 6 premieres on CW networks on 2 October.