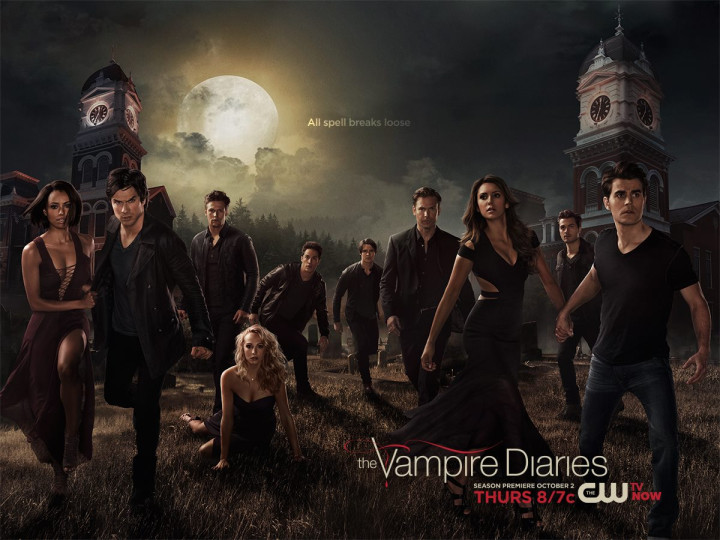 The Vampire Diaries season 6 premiered amidst much fanfare; however, fans felt the pinch of the almost no show of their favourite vampire Damon.
CW's smash hit supernatural drama started four months after the supposed death of Damon and Bonnie who got trapped inside the crumbling Other Side.
Elena, Stefan and Caroline are shown having a difficult time adjusting to a life without the elder Salvatore brother for obvious reasons.
While hopes of a Delena romance are fading, fans of Stelena have something to rejoice as the couple will share a steamy kiss in episode 3, TV Line reported.
While answering a fan question the entertainment website said there is still hope for the younger Salvatore brother lip-locking with the medical student.
"Elena's emotions are all over the place in season 6 and I have it on good authority that her love life is going to be far from dormant. In fact, I hear she'll be locking lips with a handsome fella in episode 3 — and his name does not rhyme with Shmamon," the website said in its report.
However, show producer Julie Plec still refers to Damon as the love of Elena's life and feels the season 6 of TVD is the most interesting as all characters are going through crazy stuff.
"Vampire Diaries this season is so fun and fresh and so exciting to write," Plec told E Online. "All the characters are going through all this crazy stuff that is really deeply rooted in their own emotional experience. Stefan [Paul Wesley] is making all these choices about what kind of life he wants to live next and it doesn't necessarily involve anybody that he already knows."
The only good thing for Delena fans that Plec discussed is that the younger Salvatore brother's love doesn't even know that he is a vampire.
"Stefan has a love interest and we'll find that out pretty darn quick," Plec said. "I'm not making any promises on how well that's going to go. Stefan's created this whole universe that he wants to live in and he's basically Mr. Denial."
The Vampire Diaries season 6 episode 2 Yellow Ledbetter airs on Thursday, 9 October on CW.
Who do you think Elena will finally pair up with? Will Damon and Elena reunite again? Share your views in the comment box below.