Vatican Bank Vows to Clean Up Financial Scandals With Transparency Makeover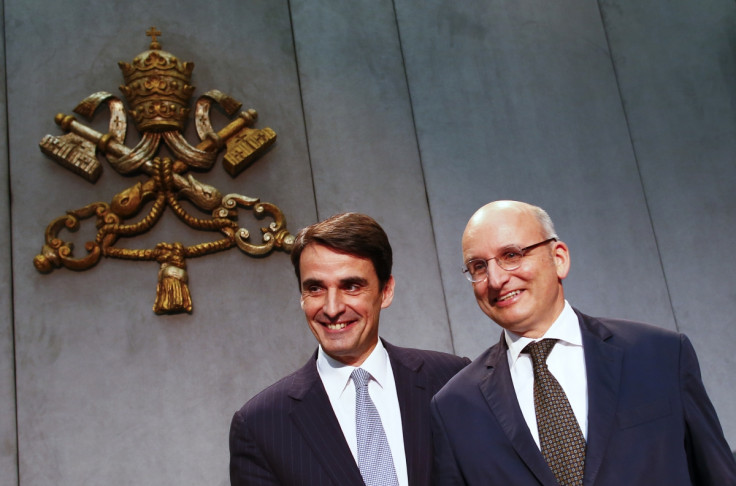 The Vatican Bank will separate business investment and church payments in a bid to clean up its image following a slew of tax evasion and money laundering scandals that have rocked the institution in recent years.
The bank, officially known as the Institute for Works of Religion (IOR), also appointed French businessman Jean-Baptiste de Franssu as its new boss, who takes over from German lawyer Ernst von Freyberg.
Von Freyberg pushed for more transparency and a programme of reforms within the organisation during his tenure in charge. He was appointed in February 2013 by former Pope Benedict just before his retirement.
The Vatican will also increase its scrutiny of the bank's central accounting department and purchasing office, which handles everything from income and spending, to property management.
"We are aiming at substantial transparency. There will be audits and these reports will be audited externally," said Australian Cardinal George Pell, head of the Vatican's recently formed Secretariat for the Economy.
"The IOR is in a peaceful transition and Freyberg had cleared the decks for a new phase [in the bank's history.]"
Secrets and Scandals
The IOR is the world's most secretive bank and held €5.9bn in assets under management in 2013.
While it says its goal was to hold and manage funds for religious orders, Catholic charities, Vatican employees and other Catholic institutions, the number of account holders has soared to 19,000.
There are 24 countries that have accounts in the private bank.
In April 2011, the Vatican created the Financial Intelligence Authority to collect and exchange information on suspicious transactions with the US Financial Crimes Enforcement Network (FinCEN), a unit within the US Treasury Department.
Italian magistrates revealed that they have been investigating the IOR for money laundering. The IOR declined to comment "on actual or rumoured client relationships".
In January this year, a Vatican cleric nicknamed Monsignor 500 for his habit of flashing huge amounts of cash was re-arrested for allegedly faking donations to cover a money-laundering operation.
Monsignor Nunzio Scarano, who worked as an accountant in the Vatican's financial administration, was originally arrested for trying to take €20m in cash into Italy from Switzerland aboard a government plane.
Two months later, two men were arrested in Italy after allegedly trying to deposit trillions of euros in fake bonds in the Vatican bank. An American and a Dutch national were found with a briefcase containing bonds with a face value of €3tn.
Officials claimed they had an appointment with bank officials to gain entry and open a line of credit at the bank.
During the same month, the lawyers for Ettore Gotti Tedeschi, the former head of the Vatican bank who was sacked after receiving a unanimous vote of no-confidence from his board, threatened to sue the bank over his "unfair" dismissal.
Gotti Tedeschi was ousted by its lay board in the wake of the "Vatileaks" scandal, in which former Pope Benedict's butler leaked the Vatican's secret papers to the media.
© Copyright IBTimes 2023. All rights reserved.