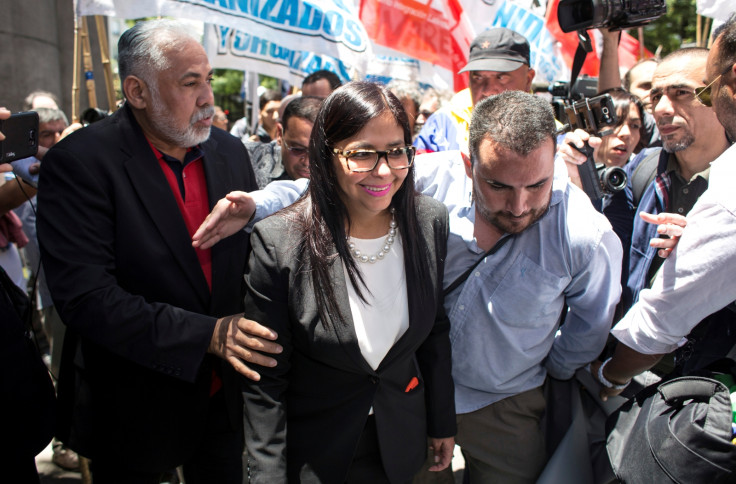 Venezuela alleged that its Foreign Minister Delcy Rodriguez was "thrown to the ground" by the Argentine authorities on Wednesday, 14 December, after she tried to crash a Mercosur trade bloc meeting in Buenos Aires.
According to a video taken outside the venue, Rodriguez was seen fighting with the security to try to get into the meeting.
"She was gravely hurt and possibly has a fractured collarbone," President Nicolas Maduro said during a speech in Cuba.
However, Caracas has no evidence to prove its accusation.
Venezuela – which joined Mercosur in 2012 – was expelled from Mercosur in early December in part due to its poor human rights record.
The Socialist government of the OPEC (Organization of the Petroleum Exporting Countries) nation said that its suspension from the alliance is an unfair and unlawful "coup."
"If they close the door to us we will, as our President Maduro has said, go through the window. Venezuela does not need an invitation because it is for the time being president of Mercosur," Rodriguez said, while addressing media outside the ministry.
However, later she was permitted to meet Argentine Foreign Minister Susana Malcorra.
Malcorra told reporters that in the meeting with Rodriguez she had made it very clear to her that she was allowed to meet one-on-one with her at the ministry; but was not invited to the Mercosur conference.
"No one ever gets into a multilateral meeting without authorization. The minister obviously felt she had the right to attend, but she had been told explicitly, verbally and in writing that she was not invited," Malcorra was quoted as saying by Reuters.
However, the meeting also proved worthless, she added.
"We got into a circular discussion that was not going to get us to a concrete solution," the Argentine foreign minister said.