Opposition leaders in Venezuela have announced a general strike for Friday (28 October), after tens of thousands of demonstrators marched across the country calling for President Nicolas Maduro to resign.
Wednesday (26 October) protests took place across nearly 50 different sites in the country the day after congress decided to open a political trial against Maduro, whose allies have opposed proposals for a recall election. The opposition has also proposed a new rally in the capital, Caracas, on 3 November, marching towards Miraflores, the presidential palace in the heart of the city.
"This needs to keep growing so that the government understands once and for all that we're doing this for real," said two-time presidential candidate Henrique Capriles. He called on the Venezuelan people to join "the biggest demonstration in history" in Caracas next week.
Protesters called the rally "the takeover of Venezuela" (la toma de Venezuela) as they demanded the resignation of Maduro, whom they blame for the economic crisis that has created shortages of basic goods such as food, medicines and even toilet paper for over a year.
The protests were marked by violence in several cities. Figures reported in local media show as many as 177 people were arrested and 88 were injured and a local politician Franklin Aguiar died of a heart attack.
A policeman was fatally hit by a bullet in circumstances that local police have not yet confirmed, although the government blamed the death on the protesters. The government has not yet released figures on injuries or detentions.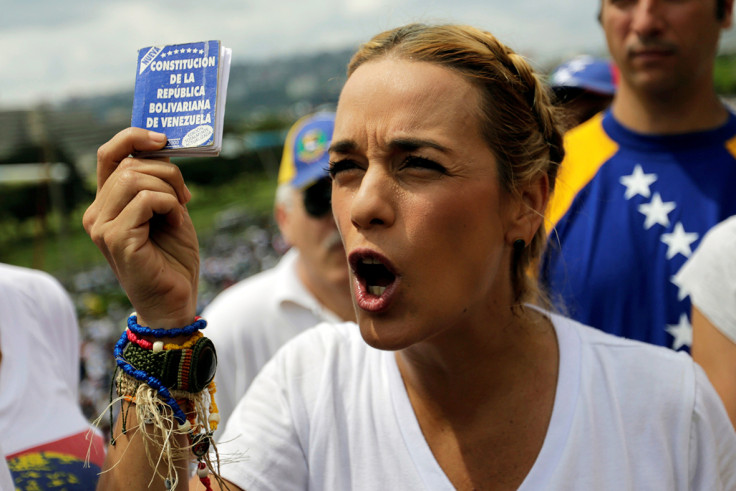 As the opposition was preparing for the protests, they had agreed to meet with the government to attempt a dialogue to defuse the crisis. The Vatican-sponsored talks are due to start on Sunday (30 October) in the Caribbean island of Margarita. After a private meeting with Pope Francis on Monday (24 October), Maduro said he'd personally launch the talks.
The executive secretary of Democratic Unity Roundtable (MUD), Jesus Torrealba Chuo, confirmed the attendance of opposition forces in his radio programme on 27 October. He said: "On Sunday we will raise the issue of resuming the electoral agenda; either by recall or by general elections. We are all aboard of a ship called Venezuela; if this ship collapses, all we're going to drown".