Day after day, for 60 days, Venezuela's streets have teemed with protesters, some throwing rocks and petrol bombs at security forces. Day after day, riot police have responded with rubber bullets, water cannon and tear gas. And day after day, teams of volunteers have rushed into the melee to help the injured.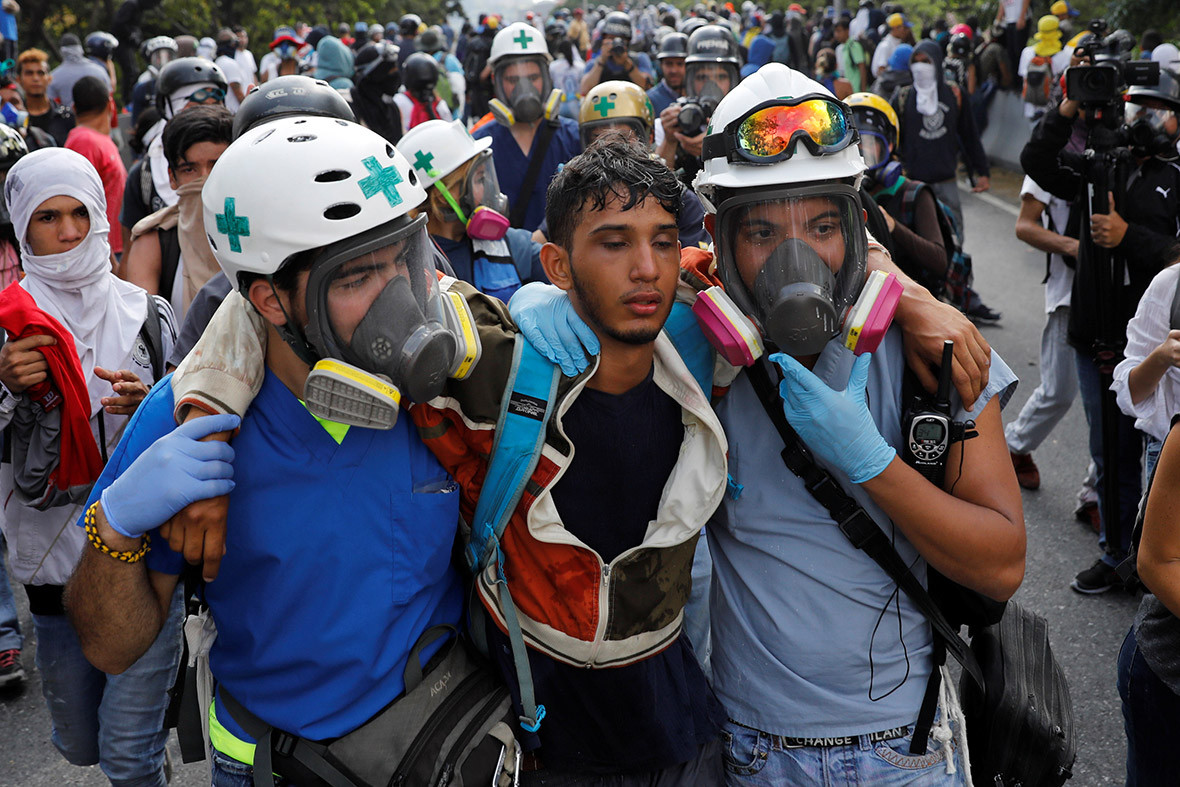 In Caracas, around 120 medical students, doctors, and volunteers have joined a primary care response team known as the Green Cross First Aid Brigade. Founder Daniela Liendo says rubber bullets and tear gas can be lethal and the violence is getting worse. "Young people arrive with open wounds on their heads, lacerations, burns of varying degrees," she says.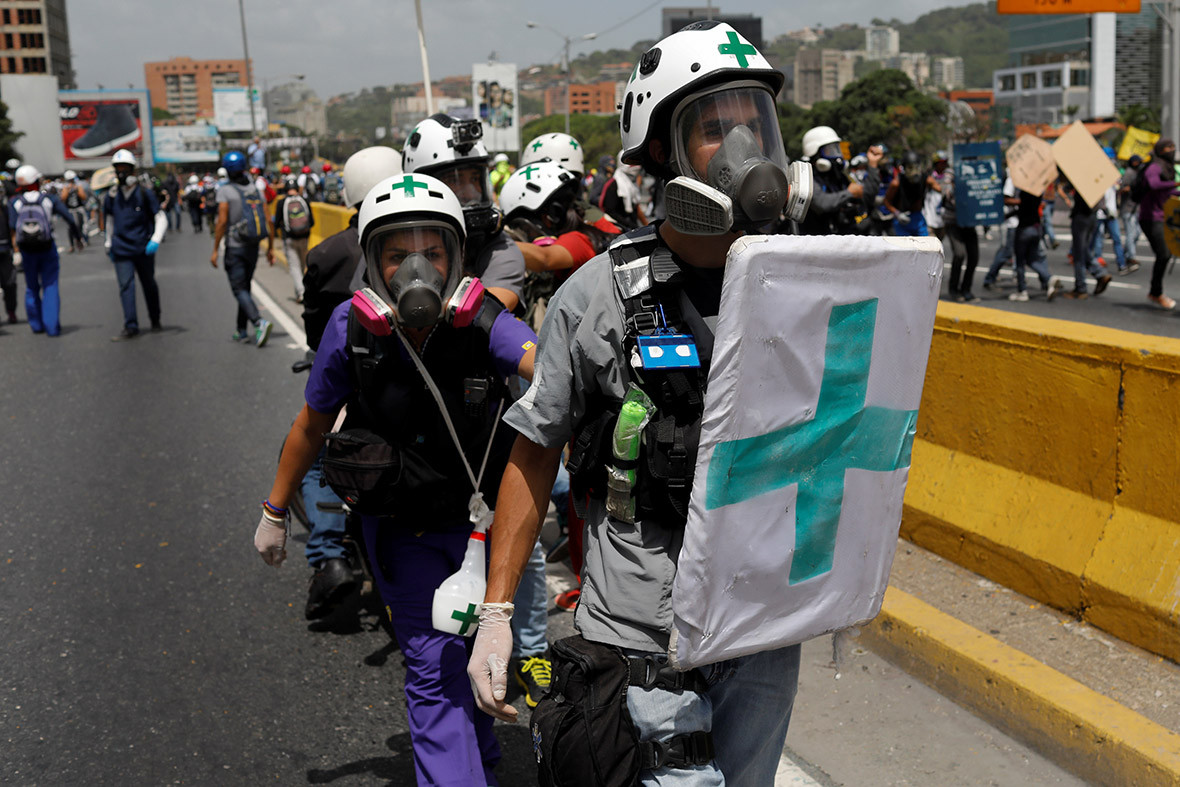 Close-range rubber bullets, flying rocks, tear gas canisters and tear gas have caused the majority of wounds and health problems.
Liendo explained how her teams work: "We have a team that works closer to the front line that is focused on extraction, in that team we also have (drivers of) motorbikes which are completely voluntary, then further back he have the triage group which identifies if the patient can be attended to there or if it needs to be referred to a green zone where the majority of specialists can be found, and they will then decide if they need to be transferred to a hospital or if the (medical) attention can be completed there."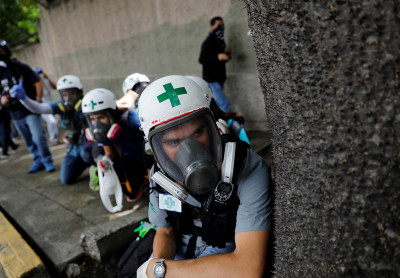 The Green Cross First Aid Brigade wear white helmets with a green cross, while a team from the Metropolitan University have orange crosses on their helmets.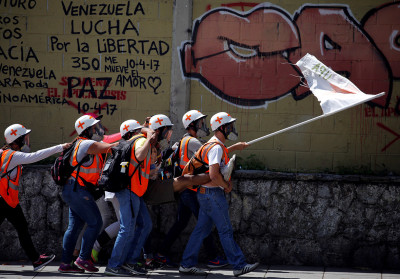 None of the volunteers wear flak jackets and some have had to resort to wearing goggles to protect themselves from tear gas. Their equipment has nearly all been donated or bought by the volunteers themselves, and they've had to create makeshift neck braces from shoes, belts, and hats.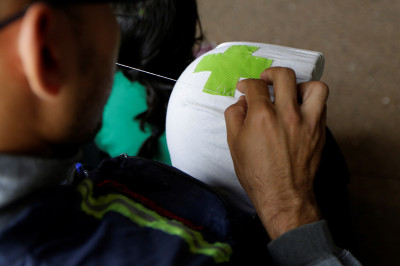 When the medics walk through a protest in single file, demonstrators stop their shouts of "No more dictatorship!" and instead clap and cheer them on with yells of "Thank you!" and "Heroes!"
The group, which describes itself as apolitical, also treats security officials. Still, it has come under fire from some government supporters who compare them to Syria's White Helmets rescue workers, claiming they are trying to hide paramilitary actions in the streets. The medical group refute the accusations.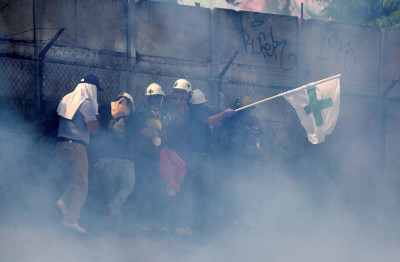 Amid a widespread feeling of abandonment in a country where the economy is thought to have shrunk by 19 percent last year and many basic services only function intermittently, the volunteer medics are seen as a ray of hope. Liendo says that caring for people on the front line has strengthened her resolve to remain in Venezuela and continue a career in medicine.
The street clashes engulfing Venezuela appear to be growing increasingly violent, with both security forces and youth protesters looking more unruly. Opposition leaders urge restraint from their followers, but say security forces and pro-government militias — not the protesters — are behind the worst attacks.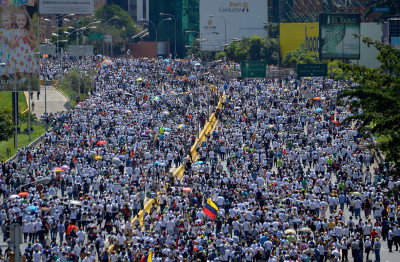 Fifty-nine people have died in the often violent protests, including one National Guard member, two police officers and one volunteer medic. The first aid volunteer died on 18 May while helping activists overcome by tear gas in the northwestern state of Zulia. According to eyewitnesses, 24-year-old Paul Moreno was run over twice during the protests. A medical student and member of the first response Green Cross brigade, Moreno frequently attended local opposition protests that have swept the country since 1 April.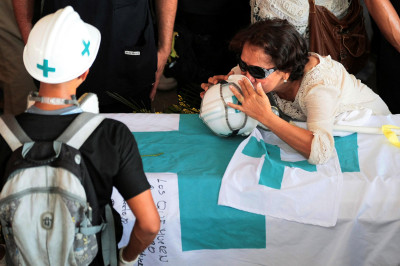 For two months, protesters have been blocking highways and setting up barricades to demand that President Nicolas Maduro call early elections and address the increasingly severe economic crisis that has left millions struggling to get enough to eat.