Once a year, the elegant seaside Greek town of Galaxidi explodes into chaotic childishness. Riotous groups of residents pelt each other – and visitors – with bags of dyed flour.
The flour war celebrates Clean Monday – the end of carnival season and the beginning of the Greek Orthodox Lent. Like Pancake Day in Britain and the Els Enfarinats festival in Spain, this is a way of using up flour before the fasting period.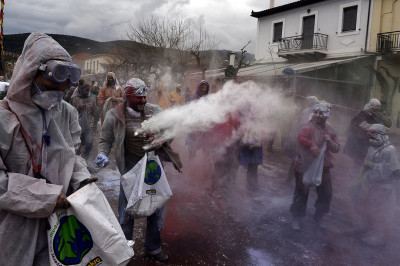 Lying about 200km (120 miles) west of Athens, the town of about 1,700 people was once a major maritime power whose white-masted sailing ships plied a booming trade around the world.
However, Galaxidi ship owners failed to adapt to the advent of steam power in the 19th century and the grand town gradually declined. Its traditional stone houses attest to its former glories.
Its economic decline spared Galaxidi from the depredations of modernisation that swept the country after the Second World War, with the town only acquiring a good road link to the rest of central Greece in the 1960s. Until then, it remained a kind of island, nominally attached to the mainland, whose outlook was always to the sea.