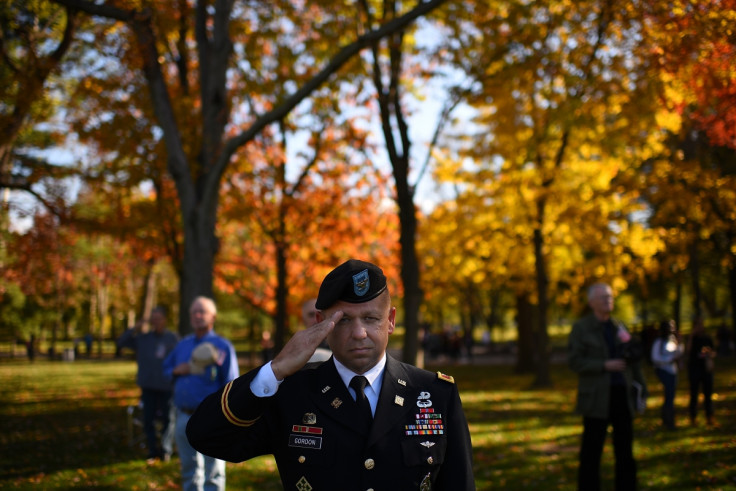 A new report by WalletHub, a personal finance social network, ranked Boston as the fourth worst city in the US for veterans. But how does the city filled with universities treat its student veterans, particularly on this year's Veterans Day?
The bank holiday honouring US veterans who have made it back home is not a mandatory day off for private institutions. A look at local Boston-area universities by IBTimes UK revealed that while some universities give their students, including student veterans, the day off to celebrate, many others do not.
Suffolk University is one of the many universities that has chosen to remain open during Veterans Day this year. "The unusual circumstance of being open on November 11 came about due to a later-than-usual start to the fall semester," Greg Gatlin, the Vice President of Communications, said in an email statement.
Gatling said that the university plans to be closed on Veterans Day in the future, but plans to pay tribute to veterans this week by holding several events and an initiative to collect items needed for a care-package drive for deployed US troops. "Suffolk Law student veteran leaders will open the Veterans Day ceremony in the Sargent Hall atrium with remarks and a moment of silence," Gatling said. "The ceremony will mark the reinstallation of the US flag that was hung in Sargent Hall following the Sept. 11, 2001, terrorist attacks."
Anthony Davis, a 31-year-old student veteran at Suffolk Law and Sawyer Business School, told IBTimes UK that he applauds the university for taking steps to honour his fellow veterans in the future. "As a veteran, first and foremost, it upsets me that I had Columbus Day off," the Medford native said. "I think if individual schools would exercise proper discretion, they would choose to disregard Columbus Day and not honouring Veterans Day should be an absolute last option."
Davis's belief that Veterans Day should be honoured with a day off was echoed by Northeastern University spokeswoman Casey Bayer, who said Northeastern would remain closed on 11 November. "We consider it a major holiday and are proud to take the time to reflect on the contribution our student veterans, and veterans nationwide, have made with their service," Bayer told IBTimes UK.
However, that belief is not held by all universities in the city. In a phone interview with IBTimes UK, Boston University spokesman Colin Riley said he believes there are other ways to honour veterans than giving university students, whether they are veterans or not, the day off. "I think its important to recognise the contributions of our veterans. Men and women ... who served in the military," Riley said. "But that does not necessarily mean you actually have to take a day off."
Riley, whose father was a veteran who benefited from the GI Bill and graduated from Boston University, added that he believed there were "enough" ceremonies and towns that would honour veterans in their communities. He did note that the school's ROTC programme would be paying tribute to veterans with a 24-hour honour guard.
Neighbouring Northeastern, however, is going a step further in helping its student veterans. The university is launching the Center for Advancement of Veterans and Servicemembers (CAVS) on 11 November to help student veterans with career preparation, with a focus on leadership skills and management experience gained during their time in the military.
"Veterans aren't looking for handouts or charity. They're used to working hard for their accomplishments. However, in spite of that hard work, in spite of all the goodwill that exists in our country, the unemployment rate for veterans aged 18-44 is still higher than it is for their civilian counterparts," CAVS director Andy McCarty said in an interview with IBTimes UK. "For female veterans, it is sometimes close to double the rate of their civilian peers. So we're setting out to reward them with opportunity, to connect them in meaningful ways with employers for co-op experiences and career placement."
McCarty also explained why it was important for the university to announce the launch of the new centre on Veterans Day, "Our nation is great at creating veterans. In the absence of major, daily combat missions, though, we're terrible at maintaining their place in the national conversation. Veterans Day is the exception. So if our goal is to help the greatest number of veterans and service members, this is the day to do it. When the whole nation, we would hope, is listening."