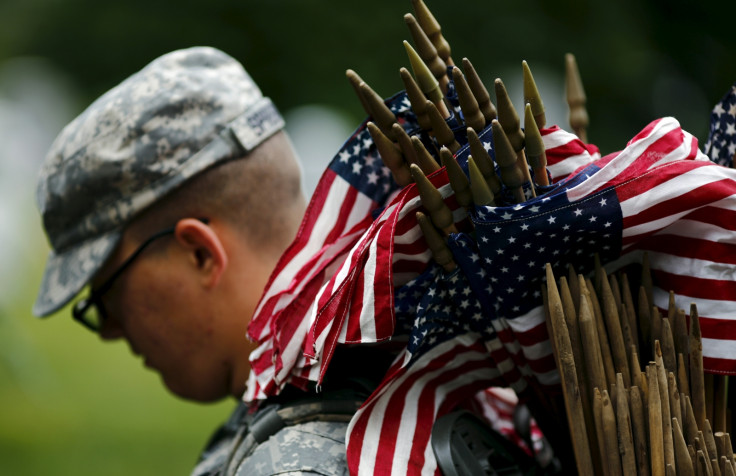 Memorial Day weekend is upon us, with several events around Boston to remember and pay tribute to all the US soldiers who died on the line of duty. While millions of Americans will travel during the unofficial start of summer, thanks in part to low fuel prices, there are several events in town to honour those fallen and to celebrate the upcoming summer months.
Bostonians began to commemorate fallen Massachusetts soldiers ahead of Memorial Day weekend by planting 37,000 flags in Boston Common. The flags, which were planted by volunteers on 20 May, honour each Massachusetts native who fell in the line of duty from the Revolutionary War onwards, WHDH reported.
Another way to honour the nation's veterans is by heading to the USS Constitution Museum's Saluting Our Heroes event. According to the museum's website, visitors can see the A Sailors' Life for Me! exhibit and other activities from 23 May to 25 May between the hours of 9am-6pm. All active duty, retired and reserved military personnel have free admission to the museum.
Veterans Memorial Park will host its 69th Annual Memorial Day Service on Saturday at 11am. The park features monuments commemorating the soldiers who fought in the Second World War, the Korean War and the Vietnam War, according to BU Today.
If music is more your style, Boston's Third Annual Memorial Day Concert will be held at the Boston Common on Monday from 5pm-6.30pm. The Honour & Tributes concert, which is hosted by the City of Boston's Veterans' Services, will include performances by the Metropolitan Wind Symphony and the Boston City Singers. The concert is free and easily accessibly by the MBTA Green Line.
Art lovers can enjoy free Memorial Day admission to the Museum of Fine Arts on Monday from 10am to 4.45pm. According to BU Today, the museum will feature various workshops, gallery tours and access to its current special exhibitions.
For other summer time events this weekend in Boston, be sure to check out BostInno's curated weekend list.