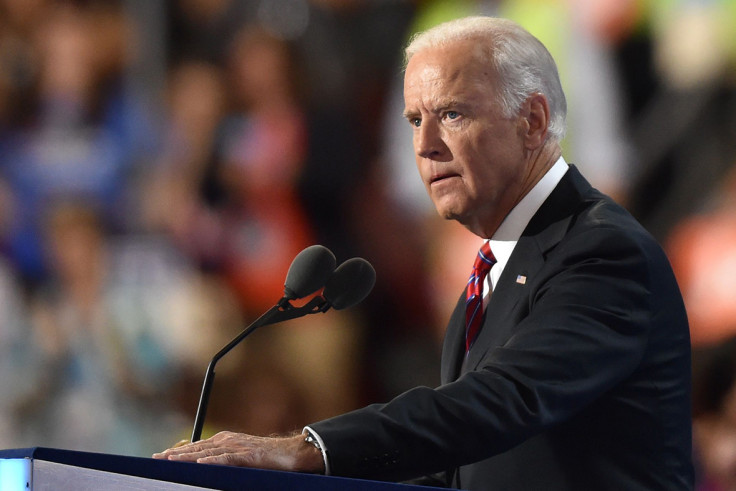 Vice-president Joe Biden has ruled out the possibility of a role as chair of the Democratic National Committee after his term in office ends in January 2017.
The former Delaware senator stressed he would remain "deeply involved" in the party but would not take a leading role such as that of committee chair.
Biden's spokesperson told NBC News: "The Vice President is not interested in being DNC Chair, but he intends to remain deeply involved in helping shape the direction of the Democratic Party moving forward."
The vice president's name had been circulating among those tipped to run for the DNC chair position, although he had not put his name forward for the role.
Currently, South Carolina party chairman Jaime Harrison, former Vermont governor Howard Dean and congressman Keith Ellison are among those who have announced they plan to run for the position of DNC chair, following the resignation of Debbie Wasserman Schultz, The Hill reported.
Wasserman Schultz, who had been DNC chair for five years, handed in her resignation following the Democratic National Convention on 28 July, with Donna Brazile currently acting as interim chairperson.
The resignation of Wasserman Schultz came amid a Wikileaks email release that claimed the chair of the DNC and other members had favoured Hillary Clinton over fellow Democrat presidential hopeful Bernie Sanders.
The Wikileaks suggestion not only prompted Wasserman Schultz to resign, but provoked a backlash from disappointed Sanders supporters, many of whom are believed to have cast write-in votes for Sanders.
Both Sanders and Biden have suggested they will be involved in shaping the future of the Democratic Party, which is being forced to review its plans after being defeated by Republican Donald Trump.