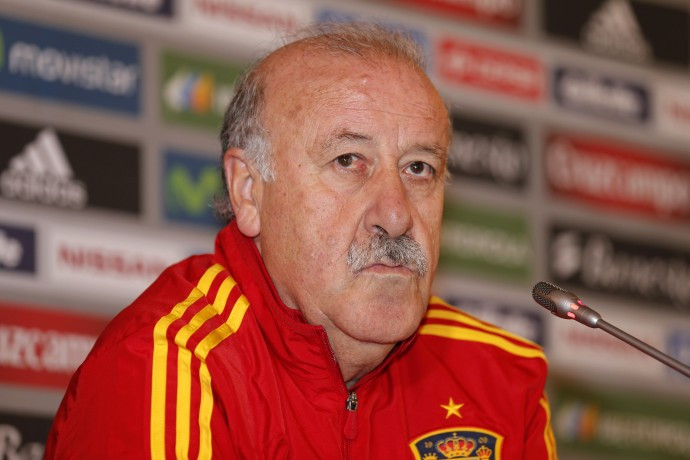 Spanish Boss Vicente del Bosque has claimed Diego Costa will not be included in the squad should he fail to adapt to their style.
Costa has had a struggling start to life with Spain since his last season debut in a friendly game against Italy, scoring only one goal in seven appearances.
Some people in Spain questioned his decision to represent del Bosque's side in the World Cup despite being born in Brazil, and whether his aggressive style fits into La Roja's tiki-taka philosophy.
Del Bosque believes his adaptation to the team is just a matter of time but has suggested that should he not manage to overcome the situation he can be withdrawn from the squad.
"If a player isn't fit he doesn't come. We have made no compromise or obligation to anyone," del Bosque said during an interview with Diario De La Roja.
"There is no obsession with him. His case is very special. At first there were people who frowned on the fact that he was foreign (born in Brazil), but now we see he is a marvel that the people have accepted.
"He is here motivated to play well. He can make mistakes but he wants to be of use. I have a lot of faith in him, although the start has been somewhat irregular."
Meanwhile, del Bosque looks ready to give Costa a new chance to prove his worth during the Euro 2016 qualifier against Belarus on 15 November and a friendly game against Germany, three days later despite Jose Mourinho's concerns about his fitness.
The Chelsea boss alerted del Bosque that Costa was unable to play more than once a week for the last International Duty but del Bosque decided to include in the squad to face Slovakia and Luxembourg.
Spain's' doctor Jose Garcia Cota recently told IBTimes UK the player didn't pick up an injury whilst on international duty.
However, Costa has eventually missed the last four Chelsea games following his two starting appearance under del Bosque.
Meanwhile, Mourinho confirmed on Friday that Costa is ready to return to action for the QPR derby on Saturday while saying he will not block him to go with on international duty in November.
"I cannot stop [anyone] from going. I am not anybody who can stand in the way of players going away on international duty. I'm always in support of players going on international duty when they are in condition to do so."