Bend It Like Beckham director Gurinder Chadha attempts to both educate and entertain in historical drama Viceroy's House. Manish Dayal, the late Om Puri, Hugh Bonneville and Gillian Anderson star.
Set in 1947, Viceroy's House depicts the time when Britain's Lord Mountbatten (Bonneville) was appointed Delhi's last Viceroy – charged with hanging India back over to its own people. While overseeing the region, Mountbatten had a hand in Partition; the creation of two newly independent dominions – India and Pakistan - divided by religion.
But what was intended as a way to restore peace in India, actually resulted in the mass migration of millions of refugees. A journey that saw many innocent people losing family members or even their own lives in the process.
Our verdict
With British-Asian heritage, it's evident that Chadha has personal connection to all "sides" of the story behind Viceroy's House: the British government, the Indian officials (Gandhi and founder of Pakistan Muhammad Ali Jinnah to name a few) and the civilians that Partition affected. Because of this, Viceroy's House is a lot more forgiving than you might have thought it would be after reading the synopsis.
Chadha does interject snippets of archive footage to hint at the appalling humanitarian disaster that Partition turned out to be, but all the horror is often sidelined to make way for easier-to-swallow fictionalisation. And in some ways, it's a shame that Viceroy's House took such a sympathetic approach when vowing to be an educating outing that wouldn't shy away from the truth.
While the events that occur may not be entirely accurate, there's no denying that the location looks wonderfully authentic. Having been filmed on-site in Rajasthan, India, the scenery transports its audience wholeheartedly into the world of the people on-screen from decadent mansions to busy staff quarters.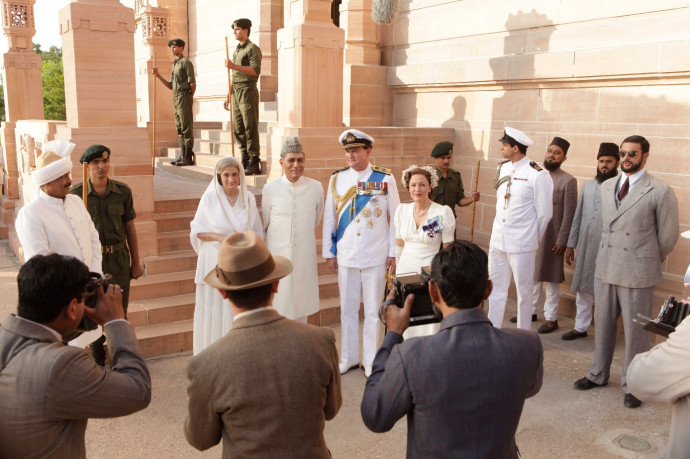 To cover as much ground as she can, Chadha uses a narrative technique much like the one in James Cameron's Titanic (with obvious differences aside). She - along with co-writers Paul Mayeda Berges and Moira Buffini - parallels a love story alongside Mountbatten's attempts at putting an end to Britain's rule over India, detailing how the latter has a huge effect on the former. It's an effective way for the film to explore the ramifications Partition had on both a political and human level. Unfortunately though, the romance side of the story ends up feeling a little under-baked due to its lack of true focus.
In the first scene we see them together, it's obvious that servant Jeet (Manish Dayal) and Aalia (Huma Qureshi) have a shared history. Before long, it's revealed that the pair met long ago when Aalia's blind father was serving time in prison and Jeet was a guard. They may have an established deep connection but we're never allowed to see it blossom, which makes it difficult for a viewer to feel a huge amount of empathy towards the star-crossed lovers when clichéd obstacles constantly threaten to tear them apart.
The dense subject matter itself frequently overshadows the thinly sketched relationship too, but that's not to say that the two actors don't give it all they've got. Dayal, in particular, presents a impassioned, likeable hero in Jeet; unafraid to fight for a United India nor for the woman he adores, while Qureshi presents Aalia as a woman of strong convictions; a figure we don't often see in movies with romance at the centre.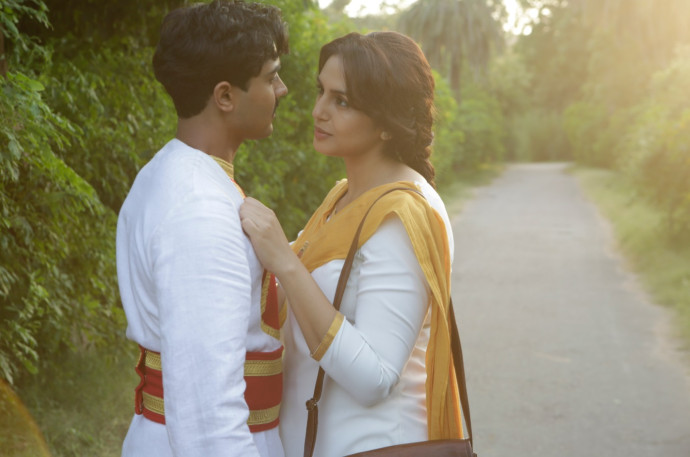 Elsewhere, Bonneville offers up a somewhat satisfying performance as Mountbatten, combining both his Downton Abbey character and Paddington role to create a bumbly leader who might come across as a bit of a stiff but, deep down, has everyone's best interests at heart. Edwina (Mountbatten's wife) is slightly less caricature-like, as she awkwardly adjusts to life in India and inquires about the local customs and cuisine. It's just a pity Anderson doesn't quite have the warmth to pull it off.
There's a whole host of supporting players that warrant mentioning too. Tanveer Ghani offers up a particularly stand-out performance as charismatic Indian Prime Minister Jawaharlal Nehru while Michael Gambon's morally questionable military assistant Lord Ismay and Simon Callow's Cyril Radcliffe provide such much needed "villainy" to the otherwise sugar-coated proceedings.
With its poignant themes and unquestionably powerful story, it's a wonder why in its final moments, Viceroy's House never quite reaches the memorable or moving heights that it should have done. Instead, it just kind of simmers out and ends. Perhaps it's because Chadha attempted to tell too many fictional stories alongside the facts, therefore cheating herself out of one account she could follow and subsequently bookend. Or perhaps, more subtly, it is to illuminate the fact that while Partition may have happened a long time ago, division and hate are social issues that are still very alive today?
Either way, Viceroy's House ultimately winds up being a little too glossy to pack the punch it so evidently needed. That being said, what the film lacks in boldness, it makes up for in heart as it takes a respectful approach to its depiction of two conflicting nations.