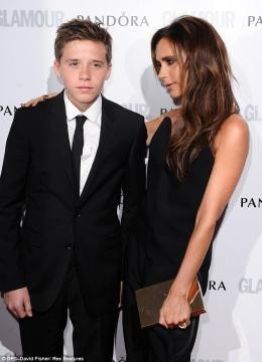 Victoria Beckham, ex-Spice Girl turned fashion designer has been crowned Woman of the Decade at an awards ceremony held at Berkeley Square Garden in central London. She was accompanied by her son Brooklyn, her parents Jackie and Tony Adams and sister Louise.
The 39-year-old was crowned the winner in front of a star-studded audience at the Glamour Women Of The Year Awards.
"My mum is my woman of the year. I'm sure a lot of people say that about their mums, but she is. She's here tonight," Beckham said as she collected the award.
"Thank you to Brooklyn, my date tonight and the most handsome man in the room, even though he's avoiding his homework. Thank you to mum and dad, my husband who supports my dreams, and Simon Fuller," she added.
Voicing her support for women, she said:"I really love women, but there aren't enough women out there who support other women. That's what we should do, support each other. That's why I'm here tonight."
Beckham also stayed true to her posh Spice past by saying: "I want congratulate all the women. I love to support women. Girl power!"
And the most important style tip came from the fashionista herself saying: "Dress appropriately. Dress in way that suits you. You have to feel comfortable."
Beckham stuck to black for the occasion, opting for loose-fitting trousers with a strapless scallop neckline top and wore her hair loose. The dress was by Belgian designer Maison Martin Margiela. She carried a gold clutch from her own line.
Makeup for the occasion was typical Victoria Beckham with smoky eyes, finishing off the look with blood-red manicure and pedicure.