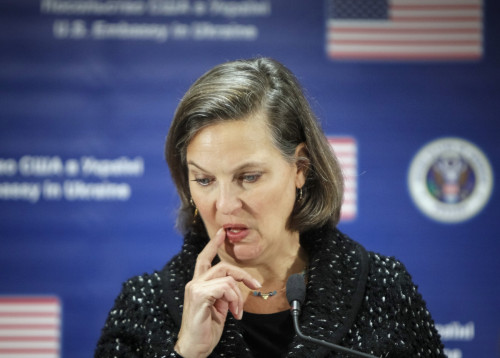 The US has said it hoped the disparaging remarks on EU made by a senior diplomat will not jeopardise its ties with Germany after Chancellor Angela Merkel strongly criticised Victoria Nuland's "f**k the EU" slur.
"We have a long and enduring relationship with Germany. We expect we'll be back to business as usual with them as well," US State Department spokesperson Jen Psaki said.
Nuland's use of an expletive during a telephone conversation with her colleague about EU' role in Ukrainian had infuriated Germany, and Merkel had termed Nuland's choice of language "absolutely unacceptable".
Speaking for the Chancellor, deputy government speaker Christiane Wirtz told reporters that Berlin believed EU foreign policy chief Catherine Ashton was performing "an outstanding job" in order to resolve the political crisis in Ukraine.
The female voice in the leaked telephone conversation says the UN is planning to appoint Robert Serry, former Dutch ambassador to Kiev, as its representative to Ukraine to ease the tensions.
"That would be great I think to help glue this thing [the reconciliation process] and have the UN glue it and you know, f**k the EU," says the voice, which is widely believed to be of Nuland's.
The US has not contested the authenticity of the leak but instead blamed Russia for it.
Given that Germany is already outraged at the US over NSA's alleged surveillance activities on Merkel, Nuland's comments are likely to have serious repercussions.
A German foreign ministry spokesperson in Berlin has also lampooned the US officials for pointing a finger at alleged eavesdropping on top diplomats – in a veiled remark about the NSA spying activities.
Impressive tradecraft
The Ukrainian opposition has also urged officials to not let the leak derail the efforts.
"In my view it's clear to see that the US and the EU were meant to be provoked by this release. All sides now need to respond calmly and should not fall into this trap. It is important that the US and EU continue to mediate together, everything else only helps the regime of [President Viktor] Yanukovych," boxer-turned-politician Vitaly Klitschko told German daily Bild.
Playing down the bugged call, Nuland said: "I am not going to comment on private diplomatic conversations. But it was pretty impressive tradecraft. The audio was extremely clear."
Nuland, as well as US State Department spokesperson Jen Psaki, chose to call the leak a "tradecraft" – a term used by Washington to dub espionage.