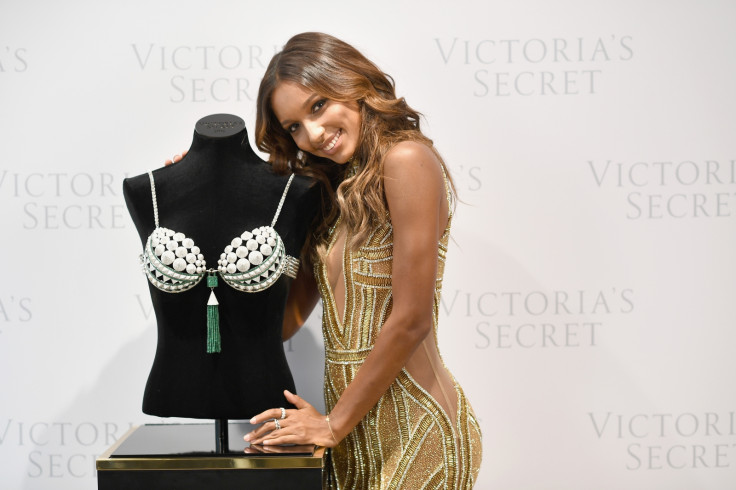 Victoria's Secret Fashion Show 2016 will be a tad more expensive than the previous year based on the new Fantasy Bra. Model Jasmine Tookes is the Victoria's Secret Angel chosen to wear the Bright Night bejewelled piece and said she is "honoured" to lead the runway.
Tookes, 25, had the privilege of unveiling the Eddie Borgo-designed bra at the lingerie brand's 5th Avenue store on 26 October. Borgo's stunning creation is valued at $3m (£2.4m) and boasts hand-crafted jewels by AW Mouzannar including nearly 9,000 precious gemstones with 18-karat diamonds and emeralds. The Fantasy Bra took almost 700 hours to create and weighs close to 450 carats.
The bespoke underwear will receive its catwalk debut at the Victoria's Secret Fashion Show, which is set to take place in Paris, France for the first time on 30 November.
Gushing over her biggest modelling gig to date, Tookes spoke to the Mail Online on the honour: "I had no idea that I was going to be chosen to wear the Bright Night Fantasy Bra. It was such a surprise to me. I don't know how they chose, but I am so honored to have this opportunity, and be able to walk down the runway with this beautiful thing."
Fellow VS Angel Lily Alridge had the pleasure of donning the $2m Fireworks Fantasy Bra at the 2015 fashion show. Fortunately, Aldridge is on-hand to dish out advice on how to model the coveted fashion item and told Tookes to "just embrace" the moment.
With the biggest night of her life set to take place in a matter of weeks, Tookes admits she has bulked up her fitness regime. The model said: "I have definitely been amping up my workouts a little bit more since I found out because I feel like all eyes are going to be on this amazing bra, so I had to, you know, step it up a little bit."
Victoria's Secret are known to be incredibly selective about their models and angels so there must be a certain something special about Tookes. Ahead of the glitz and glamorous fashion show, IBTimes UK gets to know the model-of-the-moment a little more.