Video: Elephant's leg broken as part of savage taming regime for use in tourism
The shocking video shows a team of men beating the chained animal in order to gain control over it.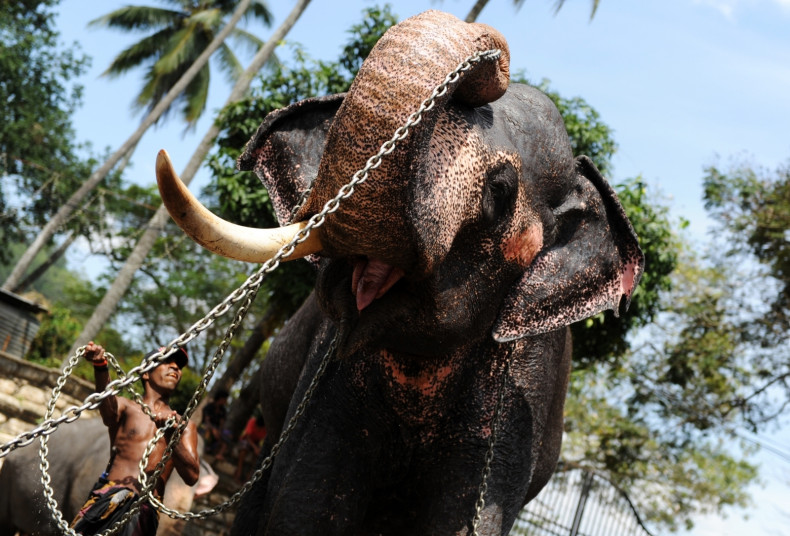 Elephants continue to be used in India's tourism industry and are a major attraction in the country's western and southern states. But the mild animals that give rides to tourists and shake your hands with their trunk do so after their owners make sure to beat out any resistance.
A shocking video has emerged in which a group of men are seen hitting an elephant into submission in order to indicate that they are in control of the animal. The footage shows the tusker with one leg chained to a tree nearby. Three men beat it with large canes till the animal finally falls to the ground as the blows keep being delivered.
According to Save The Asian Elephant, a UK-based conservation group, the severe beating left the pachyderm with one of its hind legs broken.
"This horrific brutality filmed in India by an undercover supporter of STAE is another variation of torture called 'ketti azhikkal', intended to remind the elephant after coming out of 'musth' - period surrounding mating where testosterone gets very high - of its human domination," STAE CEO Duncan McNair told the Daily Mail.
"The elephant was beaten so badly it's leg was broken, as were all the sticks used in the beating. The whole of humanity is shamed by this depravity to an innocent creature and a highly endangered species. It does all it can to obey yet the beating continues."
While elephants tend to get aggressive during "musth", and have been known to attack their handlers as well as spectators, they calm down considerably after the mating season ends. Mahouts take advantage of the change in temperament to inflict damage on these mammals to exert command over them.
"The practice of using and abusing elephants to serve the tourism industry in India is rampant and unethical to say the least," Nuggehalli Jayasimha, director of Humane Society International in India, told The Independent.
"Elephants, by nature, do not perform the tricks essential to satiate the demands of this ever growing industry and hence the process of training the elephants to perform involves a tremendous amount of cruelty including starvation, beating and chaining them for days on end," he added, urging tourists to refrain from participating in elephant rides.
The video contains disturbing images and viewer discretion is advised.
"It's time for the Government of India to implement already existing guidelines to manage elephants in captivity."
Violence and brutality have been used to tame animals in India for ages. Most recently, People for the Ethical Treatment of Animals (PETA) captured photos from "kambala" (buffalo racing) events in the southern state of Karnataka in November where the bulls were pushed, pulled by their nose ropes, dragged to the starting point, and severely beaten using wooden sticks throughout the race.
"Despite the cowardly prohibition on the use of cameras by spectators, PETA has once again gathered evidence that proves that forcing buffaloes to race is inherently cruel," says PETA Public Policy Lead Nikunj Sharma. "Handlers beat and whip the animals to force them to race against their natural instinct, which is to keep their bodies cool in water and not to overheat."