Motosport was hit with a fresh wave of grief and self-analysis on Sunday after Marco Simoncelli was killed in a crash at the Malaysian MotoGP.
The Italian rider died in a horrific accident at the start of the race in Sepang, when he lost control of his bike and veered into Colin Edwards and Valentino Rossi.
Simoncelli, 24, was hit by Edwards and then Rossi as he slid across the track. His helmet was knocked off in the collision and he was taken to the medical centre for treatment but died from "serious trauma" to the head, neck and chest.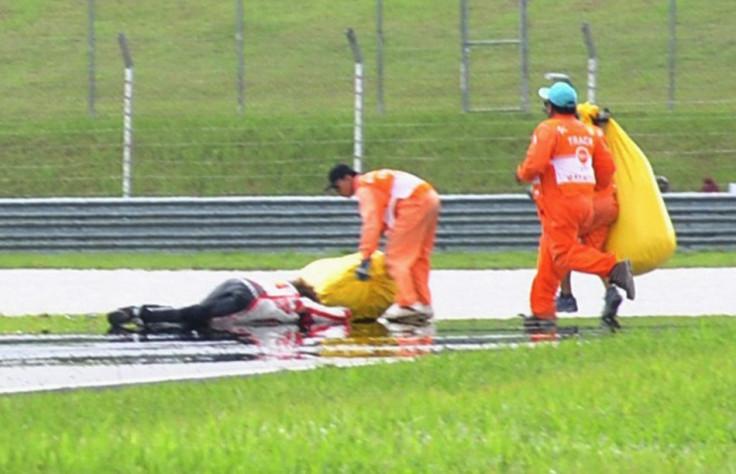 Simoncelli's death comes exactly a week after British driver Dan Wheldon was killed in a 15-car pile-up at the Las Vegas Motor Speedway and raises safety concerns for all forms of racing around the world.
The Gresini Honda rider was widely regarded as a rising star in the sport and his death, confirmed at the circuit medical centre, sent shockwaves throughout the motor racing community.
Seven-time champion Rossi, a close friend of Simoncelli, paid tribute to the young rider on Twitter.
"Sic for me was like a youngest brother. So strong on track and so sweet in the normal life. I will miss him a lot."
Speaking at a press conference medical director Dr Michele Macchiagodena confirmed Simoncelli's death.
"Because of the crash he had during the race, in which he was hit by other riders, he suffered a very serious trauma to the head, to the neck and the chest.
"When our medical staff got to him he was unconscious. In the ambulance because there was a cardiac arrest they started CPR.
"Immediately in the medical centre, with the help also of the doctor of our staff at the Clinica Mobile and local doctors, he was intubated and it was possible to take off some blood from the thorax.
"The CPR was continued for 45 minutes because we tried to help him for as long as we thought it was possible. Unfortunately it was not possible to help him and at 1656 [local time] we had to declare he was dead."
Warning: Video of the crash contains graphic images. If you are in any way uncomfortable, or don't want to see it, then don't click 'Play'.