Video of Pakistani woman sweeping her front yard riding a hoverboard goes viral
The video, with the caption 'We're all in 2017 while she's in 3017', has gained over 200,000 views.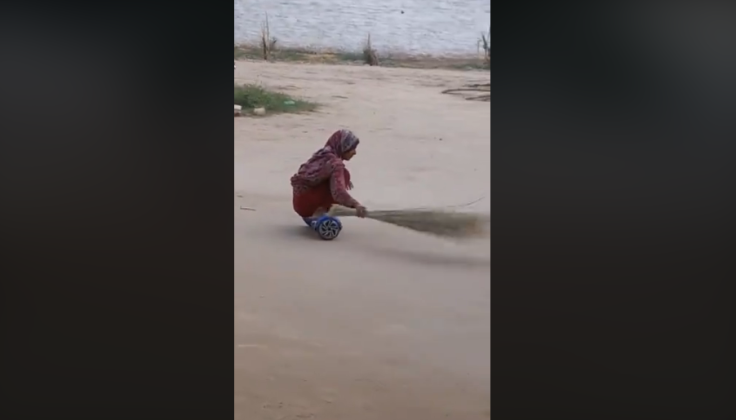 A video currently doing the rounds on social media shows a woman in Pakistan using a hoverboard while sweeping her front yard.
The 26-second video begins with a woman sweeping the floor while on a hoverboard. She uses the self-balancing board also called two-wheeled scooters to clean the entire area in a matter of seconds.
The video has been recorded at an unknown village and the woman is dressed in phiran (or pheran), a traditional attire of the region.
The video was shared on Facebook by a page called 'Sarcasmistan', with the caption 'We're all in 2017 while she's in 3017'. It has over 200,000 views and has been shared 5,022 times. The video is also being circulated on Twitter.
Many users commented on the video, saying that the woman is making full use of latest technology.
"She definitely is living in 3017," said a Facebook user comment.
"What a way to use technology," one person said while someone else wrote, "The proper use of a hoverboard."
People on Twitter are calling this an innovative approach toward 'futuristic cleaning'.
Another Twiiter user wrote, "Vaccum cleaner - NO/ Robot vaccum cleaner - NO/ Hover board - Hell yeah".
This is not the first time that videos from Pakistan have been a source of entertainment. Videos of people eating pizza dipped in tea had recently surfaced in Pakistan.
The clip was shared on a popular Facebook page known as 'Just Pakistani Things'. The admin of the page even warned viewers with a caption saying that the video is not for the faint-hearted.
© Copyright IBTimes 2023. All rights reserved.