In a miraculous incident, a male swimmer was safely rescued after he was swept away by the gushing river water from Emerald Pools trail in northern California, for about a mile. His girlfriend, who set out on a search, also had to be rescued after she was found stranded on a ledge in very steep terrain near the canyon walls.
A video posted on 25 June by California Highway Patrol (CHP) showed the man sitting on the rock and waving at the rescue helicopter, which located him after nearly 30 minutes of searching in the area.
Kalani Tuiono managed to mount a huge boulder in the middle of the river just ahead of a 50-feet waterfall drop and escaped a deadly fall. The area is a popular swimming spot and such incidents are reportedly commonplace.
The CHP said in the post that the latest incident took place on Saturday (24 June) at approximately 12:30pm local time (4.30am BST) when they received a call for assistance from Cal Fire Dispatch Center in Grass Valley. They said that their patrol helicopter H-24 arrived at the scene and began a search from Emerald Pools "and followed the extremely swift water down river".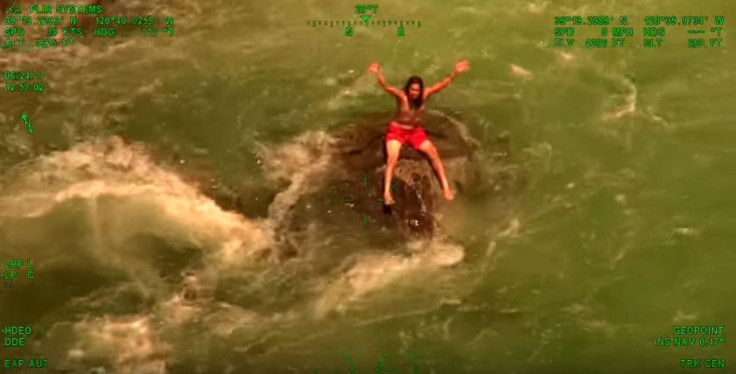 "After approximately 30 minutes, the crew located the victim, Kalani Tuiono, on a small rock in the middle of the river just above a 40-50 foot waterfall", the post read.
The helicopter marked his location and landed in a nearby zone to prepare for his rescue. They returned with an additional rescuer, considering the challenging position of the stranded swimmer. Tuiono was then rescued using a rescue basket.
"There was no room for error due to the waterfall below Mr. Tuiono," the rescue service said.
Tuiono reportedly told his rescuers that he "went over small falls, rocks, was submerged several times" while being washed away by the river before he finally found the lone rock in the middle of the river before the 40-50 foot drop. He suffered minor scratches and abrasions.
A couple of hours after Tuiono's miraculous rescue, his girlfriend was also rescued from near the area, CHP said in the same online post.
"She began searching down the canyon walls looking for her boyfriend and fearing the worst. She became stranded on a ledge in very steep terrain. Rescuers were unable to hike her out, and requested H-24 return for another hoist.
"Both are extremely fortunate to have survived in these very dangerous times on the river with the continuing snow melt and fast moving waters," the patrol team stated.