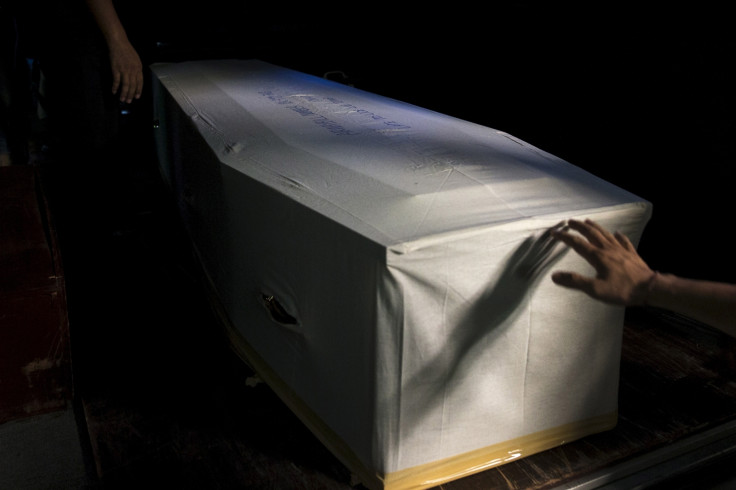 A California man - who thought he had buried his son - was shocked after receiving a call from his friend, who informed him that his "dead" son was alive. According to reports, Orange County coroner's office had misidentified the body of a man, who was found dead behind a Verizon store in Fountain Valley on 6 May. And, when Frank J Kerrigan called the authorities he had been told that the body was that of his son, Frank M Kerrigan.
The 82-year-old was also told that there was no need for him to come and identify the body of his son, who was suffering from mental illness and living on the streets, as the officials have done that through fingerprints.
"When somebody tells me my son is dead, when they have fingerprints, I believe them," the old father said, adding, "If he wasn't identified by fingerprints I would been three in heartbeat".
Junior Frank's sister, Carole Meikle, also went to the spot where the body was found and left a picture of her brother with a candle, flowers and rosary beads.
"It was a very difficult situation for me to stand at a pretty disturbing scene. There was blood and dirty blankets," Meikle said.
The family had also held a funeral ceremony for junior Frank only to know after days that he was alive.
However, on the night of 23 May, the old father received a call from a family friend that left the whole family stunned.
"Your son is alive," Bill Shinker, a long-time friend of Frank said and put junior Frank on the phone.
"Hi Dad," he told to his father.
"We thought we were burying our brother. Someone else had a beautiful sendoff. It's horrific," Meikle told the Orange County Register.
She also said that she was thrilled and happy that his brother was alive but added that she could not forget the trauma.
"We lived through our worst fear. He was dead on the sidewalk. We buried him. Those feelings don't go away," she said.
Doug Easton, a Costa Mesa attorney hired by the Kerrigans, has said that they would file a lawsuit against the Coroner's Office as they did not make adequate efforts to determine if the body was of junior Frank.
Meanwhile, on Saturday (24 June) the Coroner's Office has apologised for misidentifying the body and also launched an investigation into the matter.
"The department extends regrets to the family of Frank M. Kerrigan, 57, for any emotional stress caused as a result of this unfortunate incident. As part of the internal investigation, this incident and all identification policies and procedure will be reviewed to ensure no further misidentifications occur," the office has said in a statement.