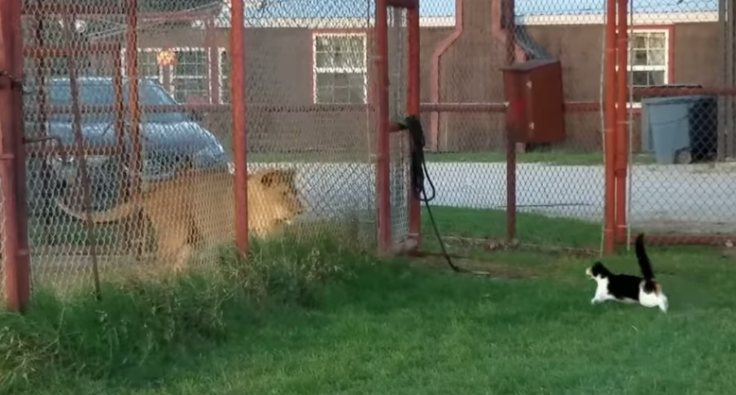 In the animal world, size does not always mean everything, and one calico cat decided to prove this by taking on the king of the jungle.
A video posted on YouTube on 14 June shows Baggy the cat getting into a stare-down with a young lion. The footage was captured by Derek Krahn, the operations director at the Center for Animal Research and Education in Texas, who can be heard in the video urging the cat not to engage in a showdown with the bigger animal.
"Oh by god, Baggy, you will lose," Krahn can be heard saying.
Noey, the lion, is fenced in, in an adjacent area. Baggy decides to chase after him till the two stand on either side of the barricade staring at each other.
Despite warnings from Krahn, the cat decides to then kick off a game of chicken, walking away from the fence, before turning around and running a few feet towards it. She does this a couple of times and watches as the lion gets rattled by the teasing before finally walking away to his owners.
The video, which was posted to the Big Cat Derek YouTube channel, has already earned over 797,000 views.
"Baggy spared another Lion today. The cage was not to keep the Lion in, it was to keep Baggy out," one viewer wrote in the comments section while another referred to it as "Little Napoleon Kitty Syndrome".
Watch the video below: