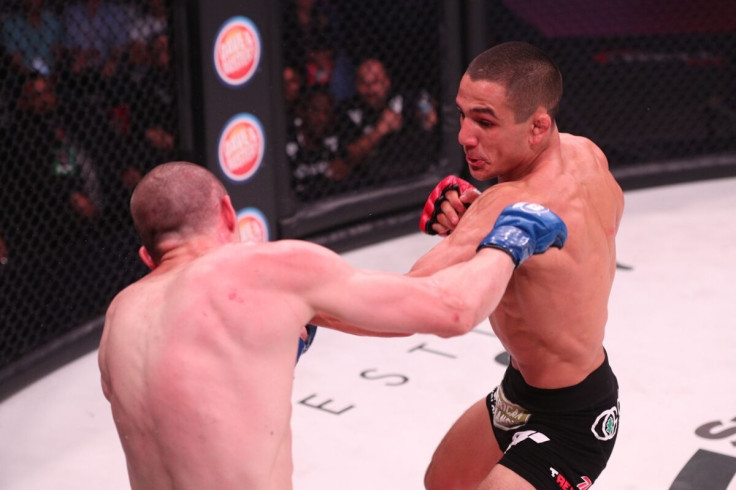 MMA prospect Aaron Pico staked his claim for "knockout of the year" after defeating Justin Linn for his first ever victory at Bellator 183.
Pico (1-1 record) made his highly-anticipated MMA debut at Bellator 180 at Madison Square Garden, New York against Zach Freeman in June in what was a lightweight bout.
There was a lot of hype going into his debut, however, the freestyle Olympian wrestler suffered a knockdown before eventually being submitted via a guillotine choke 24 seconds into the first round.
Three months on from what was a frustrating first fight, Pico made his featherweight debut against Linn on Saturday (September 23) at the SAP Center in San Jose, California and did not disappoint this time.
The 20-year-old came out to brawl while he also used his wrestling before the fight went back to stand-up. Then with 1:15 left in the first round, Pico delivered a huge knockout punch that turned the lights off on Linn.
"First of all, hats off to Justin [Linn]," Pico said following the fight. "He's a great competitor and I knew it was going to be a tough fight. It feels good fighting at 145-pounds. This is my natural weight and it felt great."
"I'm going to have to watch the replay of this fight because I'm not even sure how I hit him, it was just very instinctual. I always knew that I had very powerful hands and I'm not being cocky, I'm just confident because I spar with some of the best boxers in the world over at Team Bodyshop in Long Beach.
"The key to this fight was just relaxing because I knew that as long as I was relaxed in there, my skillset was going to show."
You can watch the knockout below: