Vietnam has destroyed a large stockpile of elephant ivory and rhino horns as it attempts to deter illegal wildlife trafficking.
The seized horns, worth more than $7 million on the black market, came from 330 African elephants and 23 rhinos slaughtered by poachers.
The ivory would have been mainly used in jewellery or home decorations, and the rhino horns were destined to be made into an alternative 'medicine' believed in some societies to cure cancer.
The burning of the stockpiles on 12 November comes before an international conference due to be held in Hanoi, Vietnam's capital, next week on the illegal wildlife trade.
Prince William, an advocate of animal welfare conservation, will be attending the conference, which aims to drive home the message that "Vietnam is not prepared to tolerate this illegal trade, and illegal traders now face significant risks along the entire supply chain - in source, transit and destination states", AFP reported.
John Scanlon, secretary-general of the Convention on International Trade in Endangered Species in Wild Fauna and Flora, said in a statement that the age and origin of the trafficked goods could now be identified through forensics, making prosecution and conviction easier.
"As a result of global collective efforts ... trading in illegal ivory and rhino horn is shifting from low risk, high profit to high risk," he said.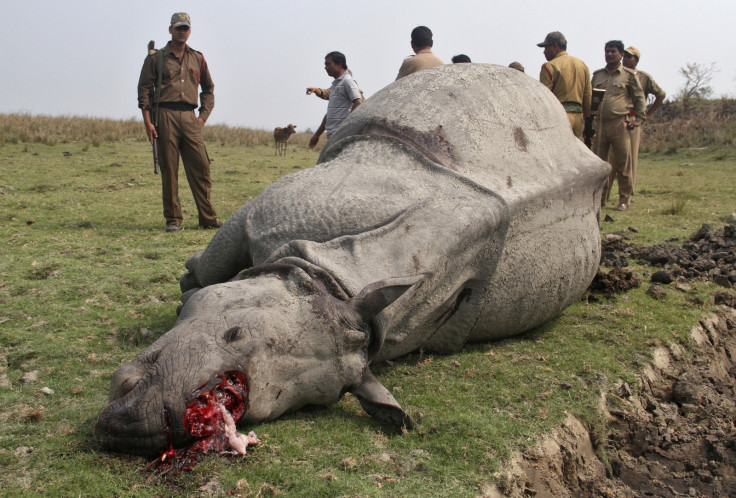 Ha Cong Tuan, Vietnam's vice minister of agriculture and rural development, said: "By organising today's destruction, Vietnam would like to affirm once again that the Vietnamese government is highly determined in implementing laws, international conventions and fighting law violations. It is also a message to those who are thinking of using or trading wildlife products for profit that they must stop; otherwise, they will be severely punished."
Comedian and actor Stephan Fry said illegal poaching was as much a domestic issue as it is an international problem, and asked his followers on Twitter to sign a petition to end the illegal trade in the UK.
The petition states: "The Conservatives pledged to shut down the UK's domestic ivory market in their manifesto for the past two elections. 30,000 African Elephants are slaughtered a year for their tusks, yet the government has still not outlawed the trade. From 2009 to 2014, 40% of UK customs seizures were ivory items."