Award-winning Photo of Girl Running Naked during Vietnam War turns 40 [PHOTOS & VIDEO]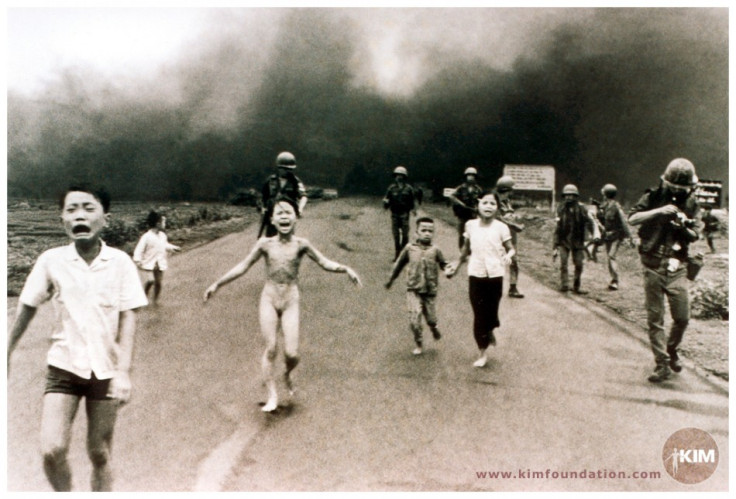 It has been 40 years since a nine-year-old Vietnamese girl - Phan Thi Kim Phuc - was photographed running naked during the Vietnam War.
The girl was photographed by AP lensman Nick Ut, on 8 June, 1972, as she and other children ran down a road near Trang Bang (north of Saigon), screaming, "Too hot! Too hot!". Her back was burning with napalm at the time. There is nothing to be seen in the background, except smoke. The military attack was by the South Vietnamese Air Force and was coordinated by an American military advisor.
The photograph won Ut a Pulitzer Prize and went on to become an iconic image of the Vietnam War as well as an eye-opening image for the plight of child victims of a war.
As for young Kim Phuc, despite suffering third degree burns, she survived the attack. Two of her infant cousins were less fortunate; they died.
The New York Times, which reported on Kim Phuc undergoing treatment at a children's hospital in Saigon 40 years ago, called her the "unintended victim of a misdirected napalm attack" in its report.
Phan Thi Kim Phuc, now 49 and a Goodwill Ambassador for UNESCO, gradually gained worldwide attention and is now a global peacekeeper.
"Her image of being burned by napalm during the Vietnam War raised worldwide awareness of the horrors of the War and made her the bearer of the message of forgiveness, reconciliation and tolerance," UNESCO mentions, in a note about her, on its official Web site.
Although Phan Thi Kim Phuc grew up hating the US and the people responsible for the napalm attack of 1972, she is widely praised as being a forgiving soul, the seeds of which were sown during a commemorative ceremony for the Vietnam War in Washington in 1996, when she publicly forgave the person who had coordinated the napalm bombing of her village.
Kim Phuc now lives in Toronto, Canda, and founded The Kim Foundation International in 1997, to provide medical and psychological assistance to child victims of war so they overcome their traumatic experiences of bombings, losing loved ones and bearing injuries of lifetime.
A video footage below shows the little Phan Thi Kim Phuc at the time she was photographed and what happened later.
© Copyright IBTimes 2023. All rights reserved.