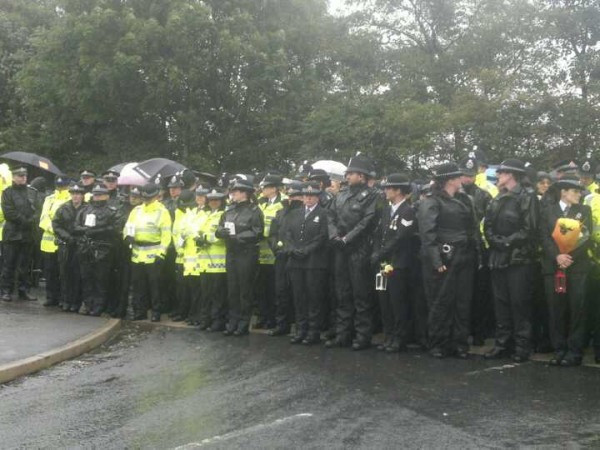 A vigil has been held in Greater Manchester in memory of two police officers who were killed during a routine call.
Colleagues of PC Fiona Bone, 32, and PC Nicola Hughes, 23, joined local residents in a minute's silence in Hattersley, Greater Manchester - exactly a week on from when the officers were killed.
Members of the Hattersley community joined around 40 officers in a walk Hyde police station to the scene of the killings in Abbey Gardens before the vigil started at 10:45am.
Dale Cregan, 29, has been charged with the murders of the two officers, along with the murders of a father and son in two separate incidents earlier in 2012.
Greater Manchester Chief Constable Sir Peter Fahy addressed hundreds of mourners during the vigil. He said: "Greater Manchester Police is one big family and we have lost two members of our family and we feel that loss very deeply.
"But I know that ourselves, all the officers and staff of Greater Manchester Police - particularly the families of Fiona and Nicola - have been hugely moved and uplifted by the great public support from around the country, indeed around the world, but particularly from the people of Hattersley and Mottram.
"We treasure the memory of Fiona and Nicola, their great service, which symbolises the great service by so many police officers and police staff, day in day out, doing their best to try to serve the public."
Greater Manchester Police Federation has confirmed that memorial wristbands featuring the names of the two officers are to go on sale for £1 each to raise money for their families.
Ian Hanson, chairman of the federation, said: "It's a superb way that our policing family and the wider community can show support during this terrible time.
"We've been touched by the enormous display of support from the fantastic people that make up Greater Manchester."