A five-strong gang who imprisoned a man, threatened him with a gun, then tortured him by waterboarding after the victim met them to buy drugs, have been jailed for 50 years.
Lee Torrance was attacked at the home of Aivaras Sepronas and Jurgita Makaroviene in Gainsborough, Lincolnshire, in 2015, after he had gone to a property to buy mephedrone, also known as Meow Meow.
In the seemingly unprovoked attack, Torrance was subjected to "vile and horrific abuse" at the home of Makaroviene, 35, and gang leader Sepronas, 44.
Lincoln Crown Court was told that after Torrance was attacked by Makaroviene and Sepronas three men, Egidijus Zukauskas, 44, Vidas Aleksandravicius, 50, and Andrius Svetickas, 27, joined in the assault.
Judge John Pini QC jailed Sepronas, for 18 years after he was found guilty of possessing two firearms with intent to cause fear of violence and possession of drugs with intent to supply.
Makaroviene was convicted of false imprisonment and jailed for five years, while Zukauskas and Aleksandravicius were both jailed for ten years after being found guilty of false imprisonment and assault. Svetickas was jailed for seven years after being convicted of the same offences.
A jury was told how Torrance had gone to the house to buy drugs and when the doorbell did not answer went round the back of the house and jumped over a fence on 15 November.
The court heard how after being told to sit down Makaroviene and Sepronas launched into their attack before handcuffing him and putting a gun in his mouth before summoning three other men.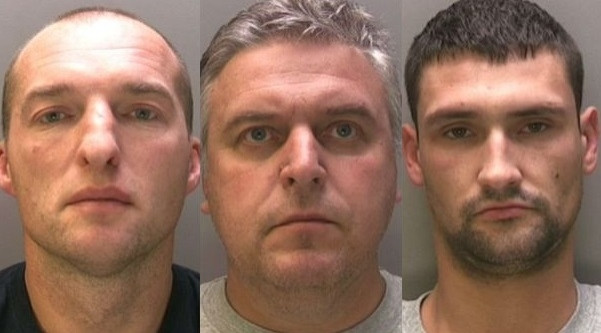 Torrance, who gave evidence during the trial, said according to the Gainsborough Standard: "I didn't try to fight back. A woman came from the living room and she was punching me as well. They were beating hell out of me.
"They put handcuffs on me. Then they put me into the corner of the room. Both of them were hitting me and punching me. They were kicking me all over. He had a gun. I was petrified. He poked it into my mouth and on my head."
The court then heard how the gang wrapped pieces of fabric around Torrance's head and poured water over his face before dunking his head into a bucket of water.
Torrance told jurors: "They were tipping water over my face. I couldn't breathe. I was panicking."
Torrance was eventually allowed to leave the house and police later found photos of him, taken whilst he was being tortured, on Makaroviene's phone.
Pini QC said whilst sentencing the gang: "Mr Torrance was petrified. The whole ordeal was utterly terrifying for him," according to BBC News. "Quite why this happened was not resolved by the evidence, but I am satisfied it was drug related."