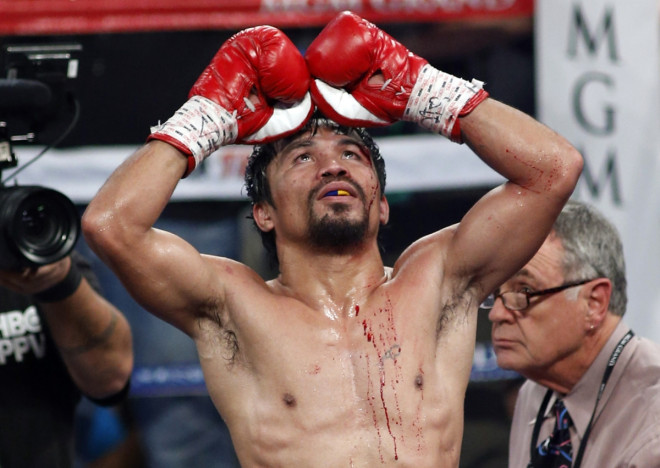 Manny Pacquiao secured his revenge over Timothy Bradley and dismissed suggestions that his powers are on the wane with a points victory to end the American's unbeaten streak in Las Vegas.
Bradley was awarded the victory in their highly controversial meeting in 2012 but a clinical display from 35-year-old Pacquiao saw him score victories from all three judges to regain the WBO welterweight title he lost to the same man two years ago.
With a fifth clash with Juan Manuel Marquez and a long-anticipated meeting with Floyd Mayweather now in his sights, the Filipino fighter firmly addressed questions of his future in the ring, telling reporters: ""There's no problem for me. My job is to fight in the ring - any opponent."
Neither man was knocked to the canvas but Pacquiao consistently outpointed his opponent after an aggressive start. He was momentarily rocked in the fourth however as Bradley dipped beneath his swing to connect with a firm right.
"My corner screamed that he was hurt," Bradley explained after the fight. "I could see he had been stunned but he recovered quickly because he was in tremendous shape."
That moment sparked Bradley's audacity as he invited Pacquiao to open up but the veteran forced his opponent onto the back foot with increasingly regularity as the fight progressed. While his confidence in the ring showed no sign of diminishing, the American was unable to match his bravado with points on the score card.
Despite a late rally from Bradley in the 11th Pacquiao was ruled the winner unanimously with scores of 116 to 112 and 118 to 110 in his favour.
"I just lost to the best fighter in the world," said Bradley, who had previously won all 32 of his professional bouts. "Manny fought his heart out and the better man won tonight."
"I take defeat tonight but the war is not over. "I fought courageously, I did everything I had to but it wasn't enough. But the war is not over, I've just got to go to the gym and get better. I will be champion again."