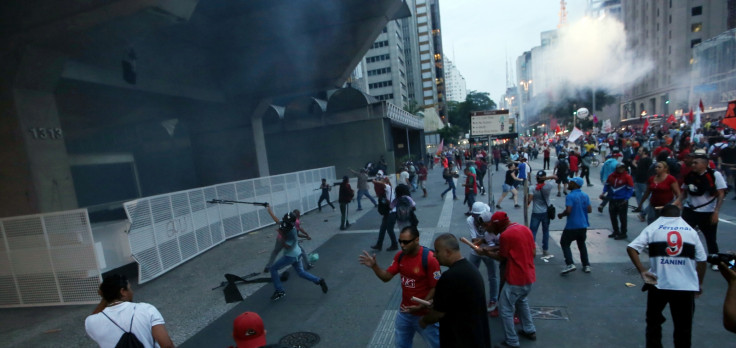 Violence erupted in the Brazilian capital Brasilia soon after approval of new austerity measures that will see limited public spending for the next 20 years. The opposition claimed that the move will hit sensitive areas like health care and education, which have already been facing a funding crunch.
The cash-strapped nation has imposed several budget cuts in the previous months to tackle the crisis, which was further marred by political turmoil that saw the removal of Dilma Rouseff as president in September.
On Tuesday (13 December), the Senate passed a controversial amendment to the constitution by 53 to 19 votes, enabling President Michel Temer to revive the struggling Brazilian economy. The move is seen as a major victory for the new president who had vowed to pull Brazil out of its worst financial crises in decades. However, the people of the country are unhappy with the growing budget cuts and have been demonstrating against the new measures.
In Brasilia, a group of masked protesters set fire to a bus and marched on the local offices of Globo TV, accusing the television channel of being biased towards Temer's government.
Riot police were deployed across the city to deal with thousands of protesters who took to the streets. Clashes were also reported in a dozen other cities, the BBC reported. Protesters in Sao Paulo attacked the headquarters of the state's conservative Industrial Federation (Fiesp).
The new austerity measures, dubbed project PEC 55, come into effect on Thursday, 15 December. Under the project, there would be a freeze on spending in the executive, judiciary and legislative branches of power, and would be allowed to grow only by the rate of inflation in the previous year.