Violent brawl breaks out at Jacob Zuma's State of the Nation address in South Africa
Punches were thrown in South Africa's parliament as MPs clashed during Zuma's address.
Lawmakers traded punches in South Africa's Parliament during the annual State of the Nation address delivered by President Jacob Zuma. Opposition MPs from the radical Economic Freedom Fighters' party (EFF) scuffled with security and other lawmakers live on national TV.
Dressed in red, they denounced Zuma as a "scoundrel" and "rotten to the core" over recent corruption allegations before being ejected them from the chamber. Zuma had twice been shouted down by EFF MPs.
The address, taking place in Cape Town, was met with increased security measures, with hundreds of extra police and military watching anti-Zuma protesters closely. There were reports that police used stun grenades to disperse opposing factions.
Zuma has been dogged by allegations of corruption and cronyism. Zuma has been forced to deny that he had an improper relationship with the Guptas, a business family that has been accused of meddling in government appointments.
The president, who took office in 2009, had to reimburse the state more than $500,000 (£399,000) in a scandal over upgrades to his private home, which included a swimming pool.
Zuma has also been criticised for his handling of the economy and as he arrived on Thursday (9 February), EEF leader Julius Malema joined his fellow opposition MPs to call Zuma a "thief", among other insults.
In response, members of his governing African National Congress (ANC) chanted "ANC, ANC".
The 74-year-old is due to step down as ANC leader in December 2017 and as president after general elections in 2019. He has previously survived a no confidence vote in November last year.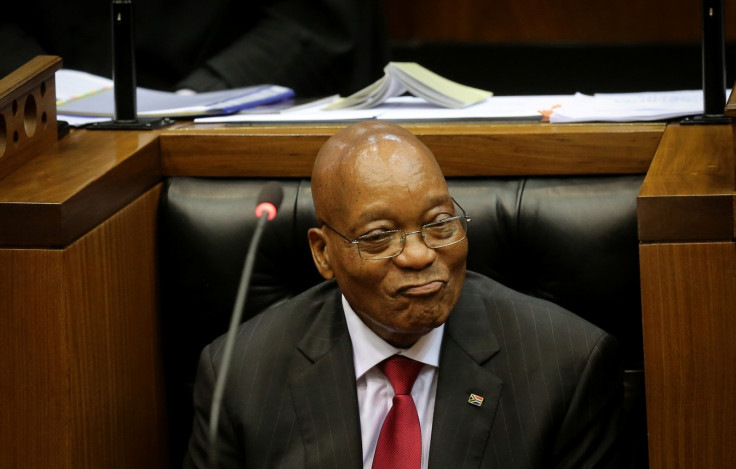 Speaker Baleka Mbete was told by Malema "your conduct has failed you. You are irrational, impatient, partisan" as he was removed from the parliament.
According to the BBC, Mbete told the opposing MPs: "We have been patient with you, we have been trying to give you an opportunity to express yourselves but... it is being abused."
Other lawmakers from the opposition Democratic Alliance also walked out saying President Zuma was unqualified to hold office.
Zuma, a former inmate at the infamous Robben Island, had ordered the deployment of around 440 troops to maintain law and order in parliament for the day, a measure tantamount to a "declaration of war" according to some opposition MPs.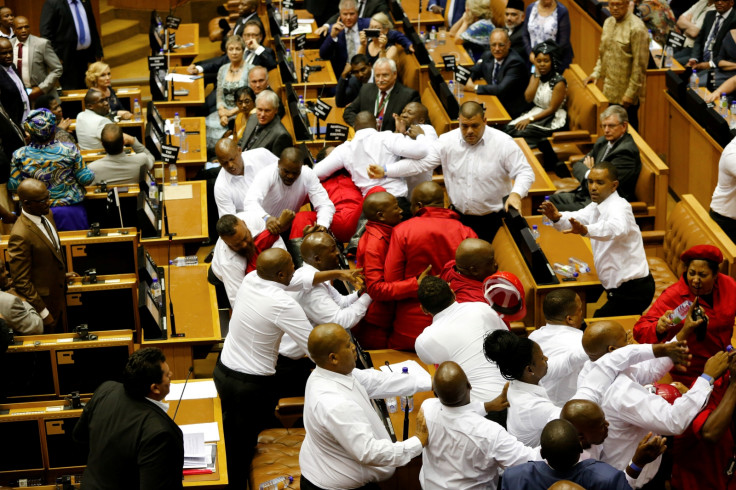 © Copyright IBTimes 2023. All rights reserved.