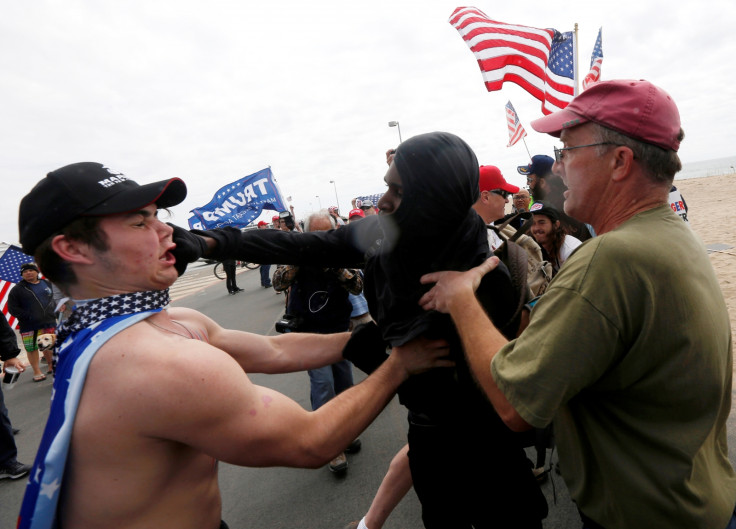 Ugly scenes broke out at a southern California beach on Saturday (25 March) as supporters of US President Donald Trump clashed with counter-demonstrators.
Multiple fights broke out at the Make America Great Again march along the Bolsa Chica State Beach after 2,000 Trump supporters were confronted with roughly 30 people, dressed in black hoodies, attended in opposition.
A number of protesters were pepper-sprayed in the face and Kevin Pearsall, a spokesman for the California State Parks Police, confirmed that four people were arrested as a result. Three were arrested for illegal use of pepper spray and one for assault and battery, he confirmed to Reuters reporters.
The confrontation took place after counter-demonstrators formed a "human wall" to prevent Trump supporters from passing any further, but the stand-off quickly escalated into an all-out brawl.
Numerous videos of the fighting have surfaced on social media showing protesters using flags as batons and people being kicked after they were pulled to the floor. Officials confirmed, however, no one is believed to have been seriously injured.
There were roughly 100 other pro-Trump rallies held across the US, but most are believed to have taken place without incident.
On Saturday, Trump tweeted in support of the protesters who attended the rallies.
"Thanks you for all of the Trump Rallies today," he said. "Amazing support. We will all MAKE AMERICA GREAT AGAIN!"
The fighting took place following one of Trump's most embarrassing weeks in office after a landmark proposition to replace the health bill known as Obamacare was pulled from the House of Representatives after it became evident it would not garner the support needed to pass.