Many passengers flying to Karachi in Pakistan on a Saudi Arabian Airlines flight from Madina were reported to have fainted onboard due to a failure in the flight's air conditioning system. They complained of suffocation after a rise in cabin temperature.
Media reports suggested that the plane did not divert or make an emergency landing despite medical emergencies. Instead, the pilot allegedly ordered the passengers to remain seated, according to a video posted by a verified Twitter account @airlivenet, Pakistan's Dawn newspaper reported.
The video that went viral on social media in Pakistan on Monday (11 September) showed passengers on board the Saudi Arabian Airlines flight SV-706 complaining to the flight crew as elderly passengers were seen passing out on their seats.
"During the three-hour flight, the temperature [inside the cabin] reached about 32°C with a high level of humidity. Several passengers had to lay in the corridor with others trying to refresh them," read the text posted with the video. It added: "But the flight didn't divert and the pilot even threatened to take action against passengers if they didn't remain seated."
The original video was reportedly shot and shared by one of the onboard passengers.
The flight carrying Hajj pilgrims was scheduled to arrive in Karachi in the afternoon on Saturday (9 September) but was delayed by more than three hours due to the technical problem.
A source at Karachi airport confirmed to the newspaper that the incident took place. The person added that the cabin crew learnt about the faulty air conditioning system after all passengers had boarded the aircraft. The issue delayed the flight for a few hours, but "eventually the crew decided that it would be best to continue with the flight, hoping that the air-conditioning would start working soon," the source added.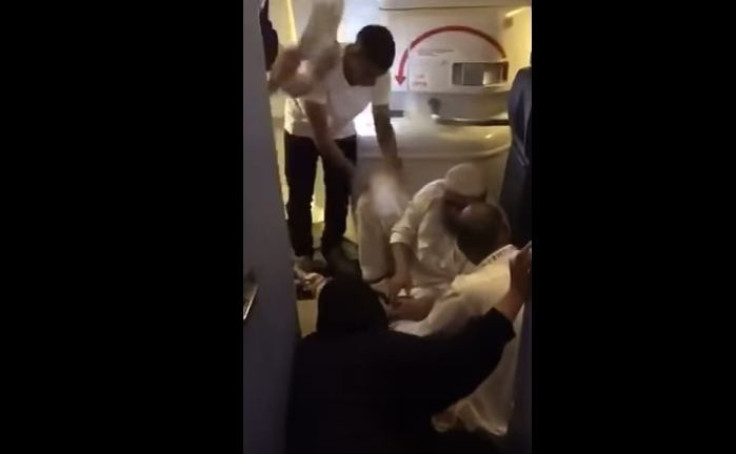 Sarah Iqbal, a passenger who was on the flight with her husband told Dawn that they were informed the cooling system would start working once they were airborne but that did not happen.
"The AC vents were exhaling hot air. People started getting very restless and kept getting up from their seats and complaining," she said.
''The supervisor rudely told them to wait another half an hour. After flying for about 45 minutes, elderly ladies started to lose consciousness and others were feeling dizzy due to the temperature and confined space.
"Doctors who were on the plane helped revive the passengers who had fainted. We later found out that the air-conditioning was working fine in the cockpit," she said, noting that the crew members also made the families of passengers who had fainted to sign a declaration that the airline was not responsible for the medical conditions.
A staff member at the Saudi Airlines operations office at Karachi airport when called, declined to comment on the issue, the paper wrote.