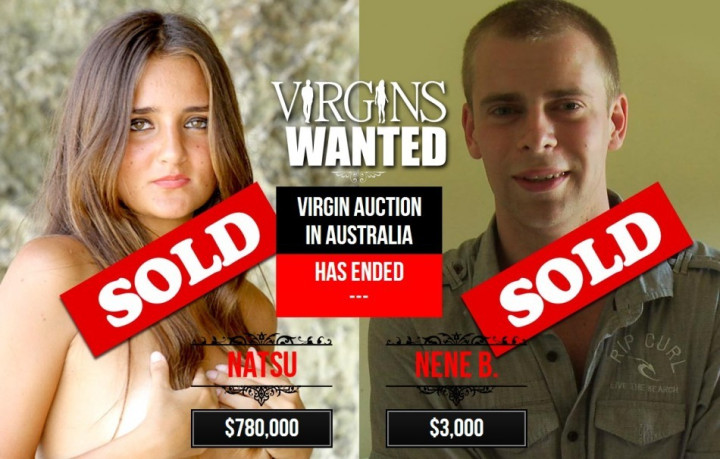 Jason Sisely, the filmmaker behind the auction in which 21-year-old Brazilian student Catarina Migliorini sold her virginity, may be facing sex trafficking charges.
The online auction saw Migliorini sell her virginity to a Japanese man named Natsu for £483,000 ($772,000).
Alex Stephanov, a 21-year-old from Sydney, also sold his 'first time' as part of the Virgins Wanted documentary. He raised £1,860 from a Brazilian woman named Nene B.
Both Migliorini and Stephanov will reportedly have sex with the winning bidders on board a flight between Australia and the US, so as to avoid prostitution laws.
However, Brazil's attorney general, Joao Pedro de Saboia Bandeira de Mello Filho, said the act was "people trafficking" and ordered an "urgent" investigation into the auction.
He wrote a letter to Brazil's foreign minister, urging him to arrest Sisely and prevent him from "executing the crime".
He also called for Migliorini to be deported back to Brazil from Australia and for her visa be revoked for prostitution.
"In principal this looks to me like the crime of people trafficking, whose repression is provided for in international treaties," he said.
In the terms and conditions on the auction website, Sisley says it is not illegal for the winning bidder to have sex with the person they have paid for. The terms state: "Having sex with a virgin is not illegal. The sexual act will also take place where it is not illegal.
"The winning bidder and the virgin will rendezvous where they will spend the night."
Migliorini has denied she is a prostitute. She said: "I saw this as a business. I have the opportunity to travel, to be part of a movie and get a bonus with it.
"If you only do it once in your life then you are not a prostitute, just like if you take one amazing photograph it does not automatically make you a photographer."
Under the rules of the auction, Migliorini and Stephanov are only required to have sex with the winning bidders once. Afterwards, a certificate of consummation "will be awarded to the consummator after sexual intercourse has taken place".