Dame Vivienne Westwood urged people to switch to a green economy in a fiery speech against Prime Minister Theresa May and the world's "rotten financial system".
The iconic fashion designer appeared on Sky News from the Cheltenham Literary Festival to promote her new book Get A Life – a collection of diary entries that detail her strong views on the environment and world affairs.
Speaking on the Dermot Murnaghan show on Sunday, 16 October, Westwood said: "I've got a message, which is in this book. But I've also got the solution, which isn't in the book, as I hadn't worked it out at that point.
"This is the message: that one million people control seven billion. We all know who the seven billion are, [but] the one million is this: the banks, the big conglomerate monopolies like Monsanto and Shell, and it is the politicians who serve them. This is the one million people," proclaimed the 75-year-old.
"There is a solution. What we think is that there is no opposition, but there is amazing opposition and it's you, the viewer. Our enemy is the rotten financial system, we must change to a green economy, that will solve everything."
In a breathless monologue, the Dame lashed out at May and modern day politics, claiming "the same people are always in power… it doesn't matter who you vote, for they are all the same, anti-people and power-driven – they are killing us".
When pressed by Murnaghan over her position as a fashion figurehead, who is worth £185m ($225m) from her business selling designer clothes for "hundreds of pounds" Westwood said she ran "a company for the future: buy less, choose well, make it last".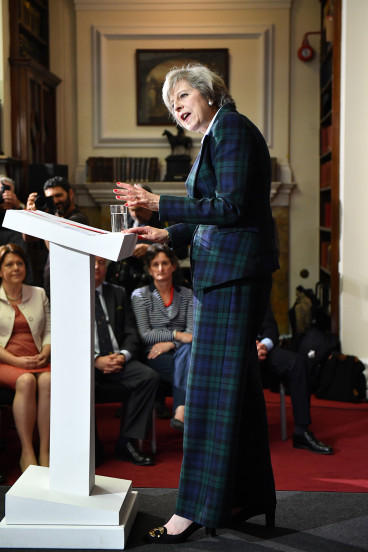 "It's not cheap labour," she continued, "it's skilled, people are happy doing it – it's quality, not quantity. This is how we save the world.
All these people who come out with plastic bags full of landfill that they wear. You could get one thing from me in the sale, it would last you."
Returning to politics, Westwood dismissed suggestions she was part of the Establishment, claiming said she has always been a Green Party voter and insisting that her focus now lies upon mobilising mass opposition against May's Conservative government, despite the fact May wears her designs.
"I always vote for the Green Party because up until now there was no-one else to vote for, but now we've got Jeremy Corbyn and the Scottish nationalists, who I hope they are more inclined to be green than the others, who will have nothing to do with it," she said.
"The fossil fuel industry is incredibly subsidised by the taxpayer and also by austerity, because the poor get poorer, so that subsidies can be given to the fossil fuel industry.
"Most people are opposed to what this government does, but feel they have no way to express this opposition. I'm giving you a way to express your opposition and to have more power than Theresa May has.
"Power to the people!" Westwood concluded.