Russian President Vladimir Putin claimed he had limited interaction with former White House national security adviser Michael Flynn during a dinner hosted by Russian TV network RT in 2015. In an interview with NBC's Megyn Kelly, Putin said he "didn't even really talk" to Flynn despite being photographed sitting next to each other.
"You and I, you and I personally, have a much closer relationship than I had with Mr Flynn," Putin said in Russia, according to NBC News. "You and I met yesterday evening. You and I have been working together all day today. And now we're meeting again."
Putin said he arrived at the event and was only told about Flynn after giving a speech.
"I made my speech. Then we talked about some other stuff. And I got up and left," Putin told Kelly. "And then afterwards I was told, 'You know there was an American gentleman. He was involved in some things.
"He used to be in the security services'...that's it. I didn't even really talk to him... That's the extent of my acquaintance with Mr Flynn."
Flynn, a retired lieutenant general, briefly served as an adviser to Trump's campaign and later as the president's national security adviser. He was fired less than a month into Trump's presidency. The administration claimed Flynn was fired for lying to Vice President Mike Pence about his conversations with Russian Ambassador Sergey Kislyak.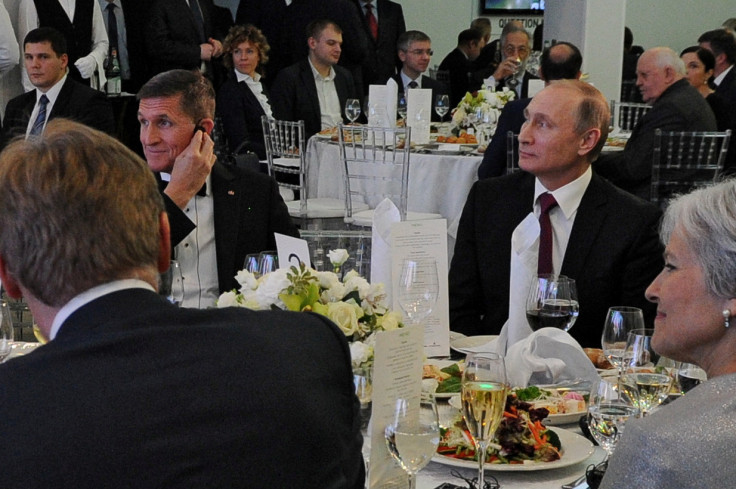 According to NBC News, Flynn was paid $45,000 to speak at the event and was given the "seat of honour" next to Putin. In August 2016, Flynn told The Washington Post that he did not request to sit next to the Russian president nor did he worry about what the perception would be.
"I was one of the guests there," he told the Post. "Some interesting characters. I found it a great learning opportunity. One of the things I learned was that Putin has no respect for the United States leadership. Not for the United States, but the leadership."
Flynn is now under investigation by the FBI, lead by Special Counsel Robert Mueller. The probe is looking into Russia's interference in the 2016 presidential election and the potential collusion between the Trump campaign and Moscow. Flynn is considered a formal "subject" of the investigation, NBC News reported.
Putin has denied overseeing a campaign of computer hacking, fake news and propaganda to swing the election in Trump's favour, Reuters noted. Meanwhile, Trump has vehemently denied any collusion between his campaign and the Russian government.