London Bridge attacks: Ex-Met Police officer's attack on Theresa May's police cuts goes viral
Peter Kirkham warned police were at risk of being 'burned out' due to cut in officer numbers.
A former police chief has attacked police cuts imposed while Theresa May was Home Secretary, accusing the government of lying about the number of armed officers in Britain.
Peter Kirkham, a former chief inspector with the Met Police, was speaking in the wake of Saturday night's (3 June) terrorist attacks in London Bridge.
He said police officers were at risk of being "burned out" because of the extra hours they were being asked to work.
He told Sky News: "I'm very proud of all the police officers that are serving at the moment [but] the police service is in crisis as a result of the cuts. They're being dragged from pillar to post.
"We hear talk of extra police officers on the street – they're not extra, they're officers that have had their rare leave days cancelled, they've had their 12-hour shifts now routinely extended to 16 hours [and] they're being drawn from other areas.
"They're not extra officers at all. They're being drawn from other duties and they're being burned out."
At least seven people were killed and more than 48 injured when a van ploughed into pedestrians on London Bridge on Saturday night, with three suspected attackers then going on a knifing spree in nearby Borough Market.
The Met Police, who are treating the incident as a terrorist attack, said armed police shot the three assailants dead within eight minutes of the first 999 call.
An elite SAS unit – code-named "Blue Thunder" – was also deployed to deal with the incident.
It comes just weeks after a suicide bombing in Manchester left 22 people dead. It led to soldiers being deployed on British streets to free up armed police officers for other duties.
More than 1,300 trained firearms officers have been cut from police forces in England and Wales between 2010 and last year, Home Office figures show.
The total number dropped from 6,976 officers in 2010 to 5,639 in 2016.
Overall police numbers have also fallen by almost 20,000 since the Conservative Party came to power in 2010 – from 146,030 to 126,766.
In her interview with Kirkham, Sky News presenter Kay Burley said the government had claimed there were more armed police officers on the street than ever before.
But Kirkham, who reportedly served as a police officer between 1981 and 2002, responded: "People that are alleging that are lying. They funded bringing us back to the number of armed officers we had in 2010 by 2020 and they've got to address a number of issues in order to get there."
He went on to talk about problems faced with recruiting new armed officers.
"Police officers do not want to be armed officers because of the way they're treated if they have to confront something like this and pull the trigger," he said.
His comments come just a day after he claimed the Met Police had "lost the streets of London".
Kirkham was speaking in response to news of another fatal stabbing in London – the 18th in just six weeks.
"We haven't got enough cops to actually put people on the street, that's the main problem really, the streets have been lost. And I would put it as strongly as that," he told LBC.
"The streets of London have been lost because there are not police officers patrolling. Why? Because police officers have been cut, not many numbers in relation to London, but those that have have been lost off the front line.
"But thirty, three-zero, per cent of police staff doing all the back room things, have been lost, it's a lot. [And] the cops that we theoretically still have, aren't on the front line."
Last year, Home Office ministers pledged £144m further funding for armed police, paying for an extra 1,500 armed officers over five years.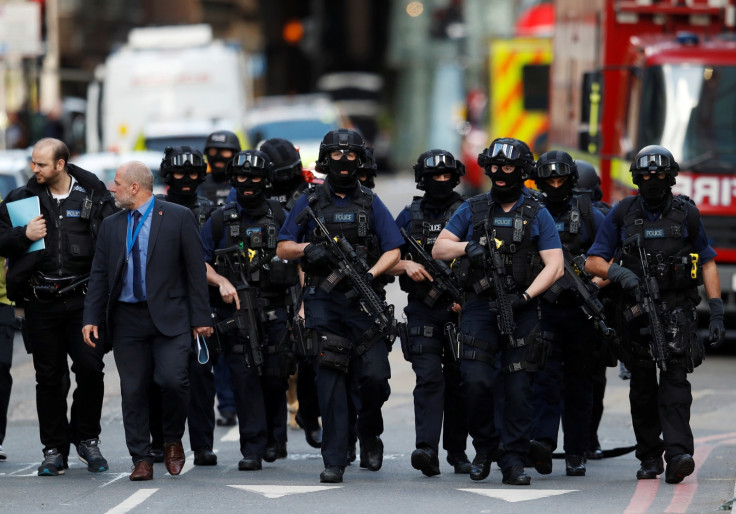 © Copyright IBTimes 2023. All rights reserved.