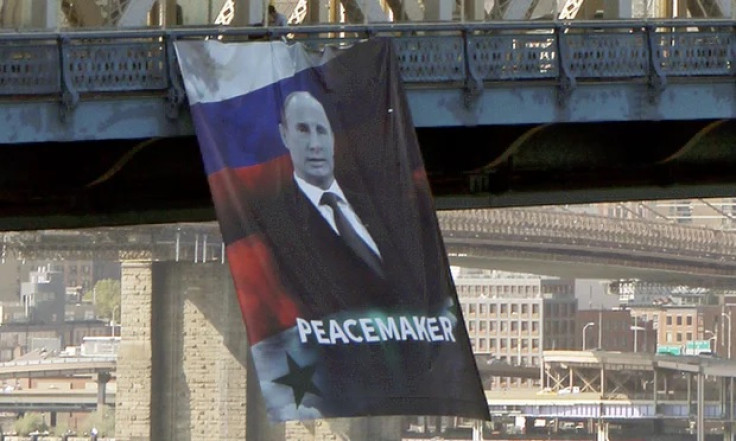 New Yorkers were confronted by Vladimir Putin the "Peacemaker" yesterday (6 October) after an enormous flag featuring the Russian president was draped over the iconic Manhattan Bridge in the city. The banner showed Putin wearing a suit standing in front of a Russian flag with the word "Peacemaker" beneath it.
Police received a call about the display at approximately 2.45pm (EST) and an hour later it was removed. A comment on the website Gothamist, which published a time-lapse video of the display, said: "We spotted a banner being unfurled on north side of the bridge at 1.47pm. At least two people were near the sign when it was unfurled, though it is unclear whether they were involved. One individual was wearing a cap."
It is not clear what the motive behind the banner was but Twitter users in New York were quick to suggest their own theories with some musing it was part of Donald Trump's campaign while others commented on a perceived security lapse. "There are no details on why or who. It has to be investigated," a police spokesman said.
Russia has continued to back Syria's Bashar al-Assad and help prop up his regime with bombing raids on jihadists including bombardments in Aleppo, where the United Nations estimates 275,000 people are trapped.
The flag appeared days after governor Mike Pence seemed to roll back on presidential nominee Trump's praise of Putin. Speaking during the vice president debate on Tuesday, Pence called Putin a "small and bullying leader".
That was followed up by Trump telling supporters in Nevada: "I don't love [Putin], I don't hate. We'll see how it works. We'll see. Maybe we'll have a good relationship. Maybe we'll have a horrible relationship. Maybe we'll have a relationship right in the middle."