Republican Donald Trump is currently ahead of his Democrat rival Hillary Clinton in two out of three national election polls. Trump came in two points ahead of Clinton – 43 points to her 41 - in the Rasmussen Reports White House Watch telephone and online survey on October 6.
This was in a four-way race including Gary Johnson and Jill Stein. Johnson got eight points and Stein three.
Trump also polled 47 points to his rival's 43 in a head to head race by LA Times/USC Tracking, also released on Thursday, Real Clear Politics reported.
However, a third poll released on the same day from The Atlantic/PRRI saw Clinton with a lead of six points – 47 to Trump's 41.
The two favourable polls have been shared by Trump on social media, along with several state polls that put him on top – including in Indiana, where a three-way poll from WTHR/Howey Politics shows the GOP candidate has 43 points, Clinton has 38 and Johnson 11.
In the key battleground state of Florida, which is hotly contested and given ample campaign attention during election season thanks to the 29 Electoral College votes it has, Trump has climbed a point ahead of Clinton.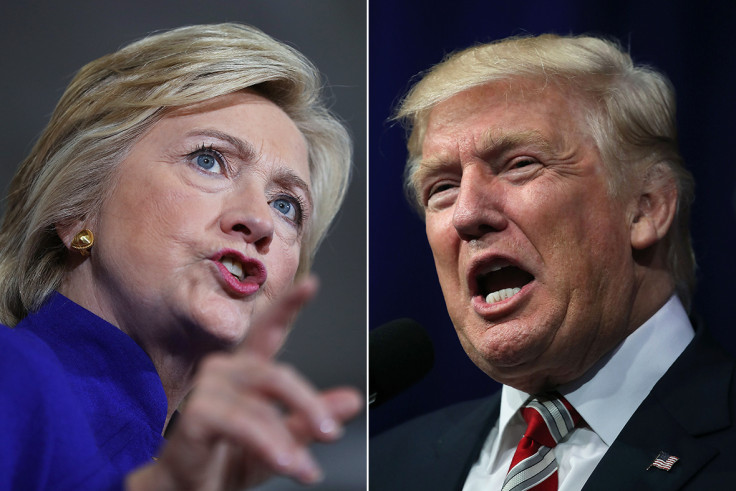 The four-way poll from Emerson shows Trump on 45, Clinton on 44, Johnson on four and Stein on three. However, the GOP candidate will not be celebrating too much – a University of Florida poll puts Clinton three points ahead of Trump.
But, after a week of bad press including a New York Times article that suggested Trump had not paid taxes for 18 years and an open letter from 30 former GOP members of congress encouraging people not to vote for him, Trump will no doubt be pleased with any wins that come his way.