Vladimir Putin admitted the presence of Russian military experts in Ukraine for the first time, hinted at a thawing in ties with the US over Syria and even suggested that Fifa soccer chief Sepp Blatter get the Nobel Peace Prize, during the Russian president's wide-ranging annual press conference.
He was asked by a Ukrainian journalist: "As far as your denial that there are Russian troops in Donbass [region in eastern Ukraine] is concerned, I'd like to pass on a big hello from two Russian officers captured there. Will you exchange them?"
Putin replied: "We never said there are no people in Ukraine who carry out tasks including in the military sphere. We are saying there are no regular troops. We are talking about two or three people," although he would not specify any further.
This admission is significant as the Kremlin has repeatedly denied its presence in Ukraine where a war is raging.
Former editor of the Moscow News and Russia watcher Natalia Antonova told IBTimes UK: "It is similar to what he did with Crimea. It has followed that same pattern. He has realised this is something he can get away with saying and I think we are going to see more admissions in the future."
The Russian leader also fielded questions about Syria, Turkey and the faltering economy in front of 1,400 journalists at Moscow's World Trade Centre.
Seasoned Putin watchers say that the questions posed by domestic and some foreign journalists are carefully vetted in advance and there were no follow-up questions.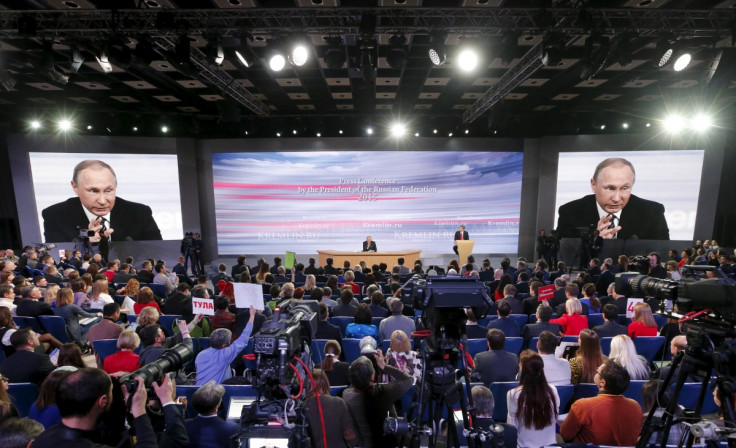 In his first answer to a question about the declining economy, he took more than 20 minutes to reel off facts and figures.
Russia commentator Natalia Antonova said that Putin faced the toughest questioning over the Russian economy because of rising prices and a falling rouble.
She told IBTimes UK: "He will continue to be grilled on the economy and the Russian press is not going to be complacent on this. This is a growing problem. Economic protests are going to be way more powerful than any political protests.
"I don't think he understands the scope of the problem because he is so insulated. He has a very small, very trusted group of advisers. Based on his answers, it really seems that he does not understand the economic issues facing the country because he is trusting the wrong people on this, they are not giving him the full picture."
There was a direct question regarding what Russia's policy in Syria was and he suggested there was a thawing of relations with the US.
Putin said: "Our position is a principled one, the Syrian people must decide who will rule them. We support the initiative of the United States, mainly to increase the efforts of the United Nations. I think that when the Syrian government study the proposals they will also agree with it.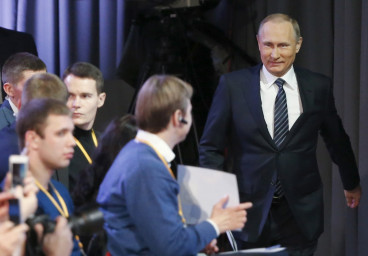 "I repeat, this is an initiative of the United States. And that shows that America and Europe at the highest levels are concerned about what's happening in the Middle East, Syria and Yemen," he said.
He reiterated his criticism of Turkey after the downing by Ankara in November of a Russian jet which he described as an "enemy act" and he added that there is a process of Islamisation going on in Turkey that would make "Ataturk (founder of modern Turkey) turn in his grave".
Regarding the alleged corruption scandal currently engulfing world football governing body Fifa, which awarded Russia the World Cup in 2018, Putin praised its suspended president Sepp Blatter whom he believes "is a very respected person. He has done a lot to develop world football. We should give him the Nobel peace prize."
When asked about the murder of opposition politician Boris Nemtsov, Putin said that the killing must be investigated and punished.
One journalist asked what Putin thought of reports that Ekaterina Tikhonova is his daughter. The family of the Russian leader is a closely guarded secret and usually considered off limits for journalists.
Putin did not deny that she was his offspring, batting the question away with: "My daughters live in Russia and studied here. I am proud of them. They are still studying and working here.
"They are not involved in business or politics. I have never discussed my family and am not going to do it now," he said during the conference, which lasted for three hours and 15 minutes.