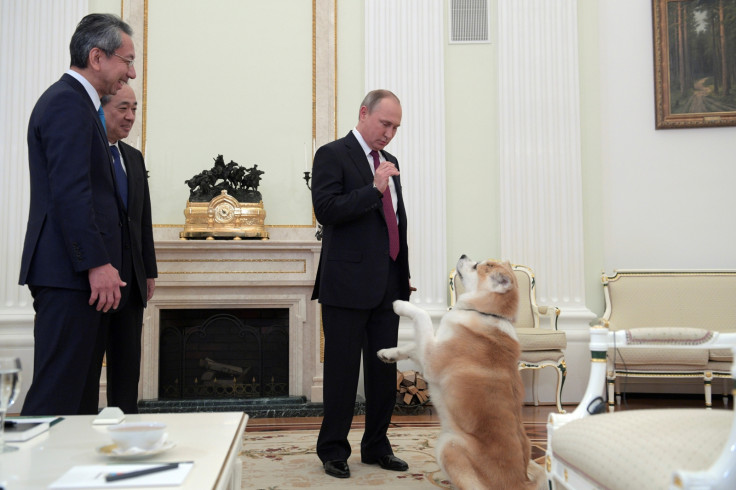 Russian President Vladimir Putin displayed his dog-petting skills in front of Japanese journalists as he prepared to embark on a two-day crucial visit to Japan to meet Prime Minister Shinzo Abe, during when a 70-year-old territorial dispute is expected to dominate the talks.
As the Russian leader let go of the boisterous Akita breed canine named Yume in Kremlin during the pre-presser photo opportunity, the scribes appeared intimidated by the dog and told Putin afterward that they had been "surprised" and "scared."
Yume was gifted to Putin as a three-month-old pup as a symbolic thanks for Russia's assistance in the 2011 earthquake.
Yume was invited reportedly on the request of the Japanese journalists and Putin exhibited his dog-handling skills as he calmly held the leash unperturbed even when Yume began barking loudly and intimidated the guests.
"I was told that you wanted to see my dog, Yume. You can see that she is in great shape," said Putin as he kicked off the interview.
"You were right to take caution. Yume is a no-nonsense dog. There are many people here, with camcorders running, lights shining, and cameras clicking. She is being a guard dog."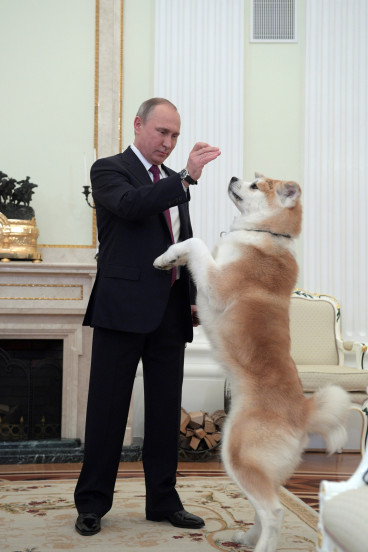 Putin will be in Tokyo on Thursday, 15 December to hold talks with Prime Minister Shinzo Abe on a range of bilateral matters including the territorial row over Russian-controlled and Tokyo-claimed Kuril archipelago – the chain of volcanic islands sandwiched between Russia's Kamchatka peninsula and Japan's Hokkaido.
Though there are expectations of a breakthrough during negotiations, both sides have attempted to play down those possibilities.
"We believe we have no territorial problems at all. It is only Japan that believes it has territorial problems with Russia. We are ready to talk about this," Putin told the press conference.
Meanwhile, this is not the first time for either Putin or Yume to showcase their diplomacy in front of an international audience. The Japanese-gifted dog did not cooperate well when it was brought during Putin's meeting with Abe in 2014. Abe was visibly alarmed by the dog's presence.
In 2007, the Russian leader had brought in Konni, his beloved Labrador Retriever, during discussions with German Chancellor Angela Merkel, who has a canine phobia. This has caused an international diplomatic incident following when Putin acknowledged he was not aware of Merkel's fears and apologised.