Russia has reportedly snubbed Japan by not accepting a dog as a diplomatic gift for President Vladimir Putin, who is scheduled to meet Japanese Prime Minister Shinzo Abe during a summit on 15 and 16 December.
According to reports, Abe's government wanted to gift a male Akita to Putin, which is a large breed of dogs originating from the mountainous northern regions of Japan. The Asian nation apparently thought Akita would be a great companion to a female dog of the same breed that Tokyo had gifted Putin in 2012.
However, Moscow reportedly turned down the diplomatic offer, a Japanese politician in Abe's cabinet said in a blog post of Friday (9 December). He did not give further details.
"Unfortunately, we heard from our counterparts, and our hope to present a bridegroom was dashed," Reuters cited House of Representatives member Koichi Hagiuda as saying.
Putin has famously shown his love for animals and has a female Akita named Yume – meaning dream in Japanese. He has received dogs as gifts from other country leaders too including the Bulgarian prime minister in 2010, who presented him with a male Bulgarian Shepherd.
Abe and Putin are scheduled to meet in Japan next week and are expected to work towards reviving talks over the decades-old territorial dispute between the two countries. The two sides are looking at signing trade deals.
Japan and Russia have locked horns over a dispute that began after Moscow seized Hokkaido, which Japan calls as its Northern Territories, while it is known as Southern Kurils in Russia.
The world's largest nation is believed to have annexed the island in the final days of the Second World War. Since then, both countries have not signed a peace treaty that ratifies the end of the war. Tokyo has long been saying it would sign the treaty only after Moscow resolves the territorial dispute.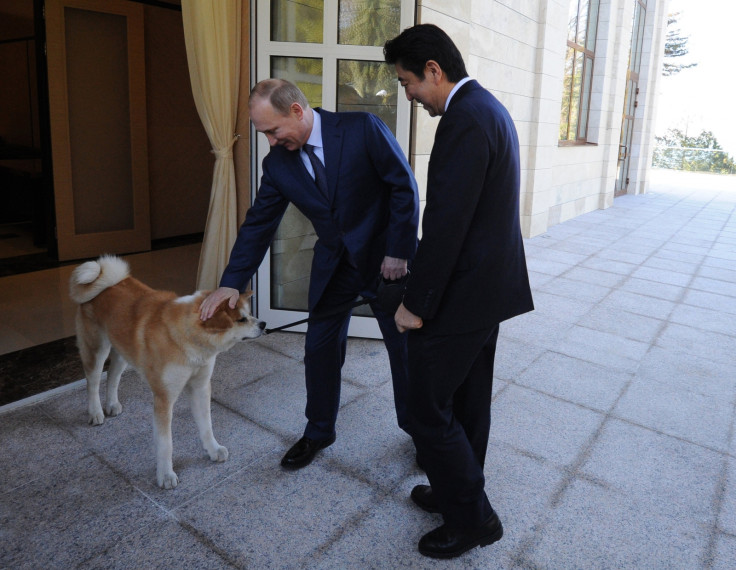 The territorial dispute is likely to be discussed when the two leaders meet. They are also expected to revive joint naval rescue training drills that halted after Kremlin's annexure of Crimea in 2014.
While Abe said he was positive about progressing with peace talks, Russia's Foreign Minister Sergey Lavrov had recently said that it would be difficult to close the gaps in positions over the disputes with Japan in just two days.