Animation pioneer John Lasseter, director of Toy Story and co-founder of Pixar Animation Studios, has taken a six-month leave of absence from the company following so-called "missteps" he's made over the years.
The Hollywood Reporter broke a story about Lasseter's behaviour, citing sources at Pixar and in animation community who said that Lasseter has reputation for "grabbing, kissing, [and] making comments about physical attributes".
Lasseter oversaw all Disney's animated films as chief creative officer of Pixar, Walt Disney Animation Studios and DisneyToon Studios.
In a memo sent out to Pixar employees, Lasseter said: "I've recently had a number of difficult conversations that have been very painful for me. It's never easy to face your missteps, but it's the only way to learn from them.
"It's been brought to my attention that I have made some of you feel disrespected or uncomfortable. That was never my intent. Collectively, you mean the world to me, and I deeply apologise if I have let you down.
"As hard as it is for me to step away from a job I am so passionate about and a team I hold in the highest regard, not just as artists but as people, I know it's the best thing for all of us right now."
It was reported that Toy Story 4 writers Rashida Jones and Will McCormack left the high-profile project after Lasseter made "an unwanted advance" on Jones, but the former star has refuted those claims.
"We did not leave Pixar because of unwanted advances," read a joint statement. "That is untrue.
"We parted ways because of creative and, more importantly, philosophical differences. There is so much talent at Pixar, and we remain enormous fans of their films. However, it is also a culture where women and people of color do not have an equal creative voice."
Jones and McCormack then called out Pixar's track record, noting that only one of its 20 films was co-directed by a woman (Brenda Chapman, who led 2012's Brave) and only one by a person of colour (Ronnie Del Carmen, who co-directed 2015's Inside Out).
The writing duo called on Pixar "to be leaders in bolstering, hiring, and promoting more diverse and female storytellers and leaders. We hope we can encourage all those who have felt like their voices could not be heard in the past to feel empowered."
A report from Variety detailed some allegations regarding Lasseter's behaviour, describing the filmmaker as a "known as a hugger" who "showers attention on young women". Multiple former Pixar employees described a "whisper network" at the company, where women were told it would be best to avoid their boss.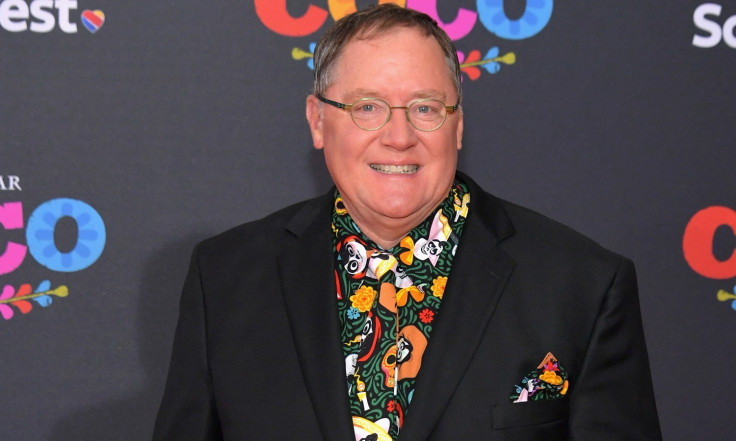 "Just be warned, he likes to hug the pretty girls," another source recalls being told. "He might try to kiss you on the mouth."
Another former worker described how he would walk up to women in the office and kiss them on the lips. "I found it shocking," she said. "That's not a normal way of greeting a colleague."
Lasseter is described by a number of former employees as "an overgrown boy" with little sense of personal boundaries. His drinking was cited as a concern as well. "Several employees described wrap parties where Lasseter would take big swigs from a jug of vodka and pass it around," reads the report.
"There is a currency there," said one source. "The currency is touch, and being touched by this person who is always in charge. It's personal and intimate and probably not appropriate."
"The consensus was that he was a hugger," another former employee said. "Male and female employees warned me that he could be touchy-feely. He could make comments that were uncomfortable or awkward or embarrassing for women. And it was all, 'Oh ha ha, that's just our John.'"
"It was almost comical how obvious he was about it."
News of Lasseter's leave of absence broke mere hours before the release of Pixar's latest film Coco, which is set to dominate the box office over Thanksgiving weekend in the US.