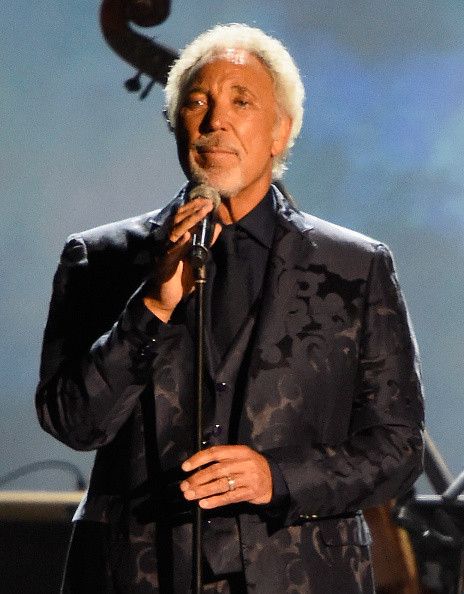 It was the final of The Voice and while all eyes were on the remaining contestants to see who would be named the winner, there was more excitement than anyone bargained for to come.
Sir Tom Jones dropped an F-bomb, Jennifer Hudson burst into tears and a fan invaded the stage.
It was the culmination of the four-month competition and while emotions were inevitably high for the performers and their mentors, no one expected it would end in chaos. Outright winner Mo Adeniran had to share his glory with some unscheduled competition.
Jones couldn't hide his surprise when it was announced that his act, Into the Ark - Taylor Jones and Dane Lloyd - had made it to the final two.
"'F*** me!" he shouted in disbelief, prompting host Emma Willis to apologise.
The Big Brother host is accustomed to warning the housemates not to swear on live TV but the Welsh singer's slip-up left her flustered.
"There may have been a little swear word that popped out then through excitement – apologies to anybody if they were offended," she said.
Moments later a fan wielding a placard invaded the stage. He was quickly swept off by two security guards. While the intruder initially went unnoticed by Emma as she congratulated one of the contestants, the judges were left bewildered.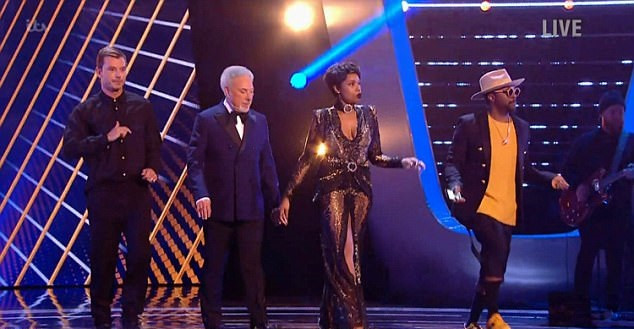 Will.i.am tweeted:
Gavin Rossdale and Jennifer Hudson looked on in shock as Willis quickly went to a break.
A representative for ITV told MailOnline: "During the results,there was a brief interruption on stage, which was dealt with immediately by security. The show continued as planned."
As The Voice 2017 descended into chaos, Twitter went into meltdown.
"Sir Tom Jones dropping the f-bomb! Classic! #thevoiceuk," said another viewer. "As if Tom Jones just said 'f**k me' on live TV, brilliant #thevoiceuk"
Another wrote: "Tom Jones cursing and a gatecrasher bundled off #TheVoice in the blink of an eye.. (oh, and a pretty good winner too) Classic telly.'
Displaying spiralling vocals on soul-stirring renditions of Iron Sky by Paolo Nutini and Unsteady by X Ambassadors, overall winner Mo Adeniran impressed audience and judges though the chaos overshadowed his victory.
After his performance of Iron Sky, Hudson said: "If that is not a representation of what The Voice is about then I don't know what is. It's timeless and it's not something that comes about all the time."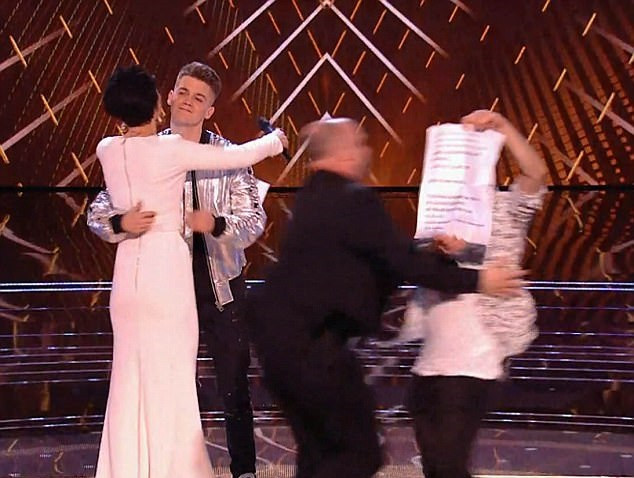 Fellow mentor Gavin Rossdale shared the sentiment describing Mo as "the voice of a generation".
When he was announced as the winner, the aspiring singer was clearly overwhelmed while mentor Jennifer Hudson was left in tears.
Describing her as "the most incredible ever person" he thanked the Oscar-winning star for guiding him on his journey in the competition which gave him a record deal with Polydor Records that would launch him into the music industry.
"I want to say thank you to everyone at home and here that supported me," he said.
"I want to say an amazing thank you to the most phenomenal person I've ever met in my life. Thank you, Jennifer, and thanks to all the judges."
Celebrating his win and welcoming their new artist they tweeted: "CONGRATS TO @imjustcalledmo FOR WINNING THE VOICE UK! We'll be seeing you soon (sic)."
Hudson's second act, Jamie Miller, also made it to the final.
Bowing out of the competition with a faultless rendition of Ed Sheeran's Shape of You he praised his mentor for her encouragement.
"I started believing in myself the minute you pressed the button. Working with Jennifer is so amazing. She's the most caring down-to-earth person."
While he didn't quite make the final cut The Dream Girls star couldn't have been prouder.
"I wanted to cry, he's a superstar. You owned it. This is your moment, this is your night," she said.
Mo's winner's single will be available to stream and download from midnight tonight on iTunes and Apple Music.