vTime: First ever mobile virtual reality social network to launch in November [Video]
A UK-based interactive entertainment studio is to launch the world's first mobile virtual reality social network in November that will enable users to explore virtual worlds with their friends and chat about trending topics.
On 27 November, Starship Group will be launching vTime – a VR social network that is designed to be accessed by users on a range of devices, including laptops, gaming consoles, smartphones and tablets, as long as users have access to a smartphone-mounted VR headset like the upcoming Samsung Gear VR or Google Cardboard.
In order to access the social network, users will need to download the free vTime app if they are using a mobile device or console, or logon to the vTime web portal on a computer. The idea is that users register an account and add their friends' accounts to a list, in a similar way to an online chat service such as Skype or AOL Messenger.
Chatting and exploring virtual worlds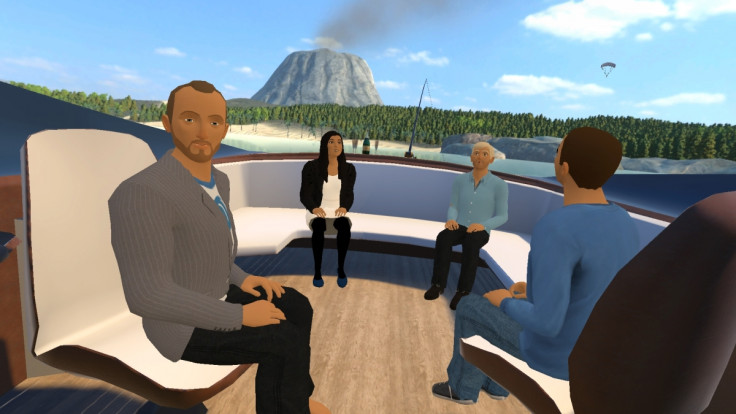 Starship Group's Paul Hollywood shows the IBTimes UK Tech team how they can live out their fantasies in virtual reality
Starship Group
But unlike Skype or AOL, the user communicates by using their voice and navigates the menu interface by moving their head while wearing the VR headset. All users have an avatar and they can customise how it will look to other users when they set up their account.
Once in vTime, the user selects friends to talk to and can experience a range of different virtual environments together. The user hosting the conversation can also share images and videos with the group.
vTime isn't just designed for private conversations however, and when users enter the central "hub" area of vTime, if none of their friends are online, they can start a conversation with random users or join users discussing topics currently trending on the internet.
The service is also designed to enable business users to meet virtually and have meetings, and there's a nifty tool in vTime that can read Excel spreadsheets and convert the data into 3D models and graph visualisations, as well as enabling a user on a webcam to join the virtual meeting.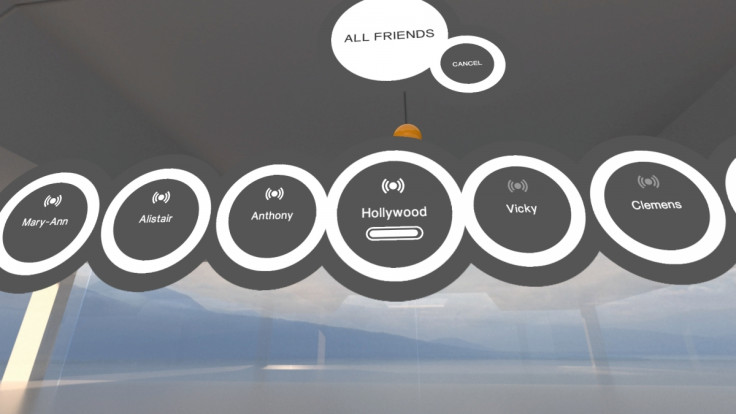 The menu interface for vTime is controlled by movements made with your head whilst wearing the VR headset
Starship Group
Avatars can't walk around or navigate with their hands
IBTimes UK was given an exclusive preview of the technology and the only shortfall we found was that our avatars had to sit in one place all the time – we couldn't walk around the virtual world and our hand movements weren't tracked to enable us to interact with elements and menus in vTime. However, the creators say that this is only the beginning, and the social network will evolve over time.
"Nobody really knows how people will use virtual reality, and there are haptic controllers being designed but we don't know which one will end up becoming the standard. So for the moment, we purposely designed vTime to be a communication tool that we can then expand into the technologies that are coming in the near future," Starship Group's creative director Paul Hollywood told IBTimes UK.
"As you lower or raise your voice, the voice input tracks the body gestures and the hand movements of the avatar change, plus you can fire off emojis to other users and send them a thumbs up or thumbs down if you disagree with them."
Trying to forge ahead on mobile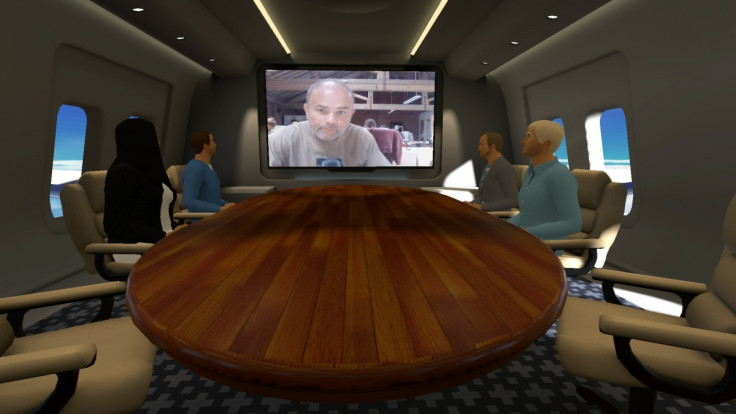 At the moment, vTime's two nearest competitors are VRChat – an Oculus Rift-based virtual chatroom where users can explore worlds designed by both the platform developer and other users – and Altspace VR, a communication platform where users can surf the internet and access social media sites in a browser in the virtual environment, as well as play games and watch films and TV together in the space. Both VRChat and Altspace VR use tethered VR headsets that have to be connected to a computer, and most of these headsets are only owned by developers at the moment.
Eventually, Hollywood wants vTime to include interactive experiences such as games, but for now, Starship's strategy is to launch the network so that as many consumers can get onto it as possible, and so that the developers can see how they end up using the solution.
The first consumer VR headset, Samsung Gear VR, which will work with a multitude of Android devices, is expected to launch in November in time for Black Friday (27 November). vTime will also launch on Black Friday on Oculus Home, and it will initially work best with high-end devices like Samsung Galaxy S6, Samsung Galaxy S6 Edge, Samsung Galaxy Note 5 and the Samsung Galaxy 6S Edge+.
As for fans of the low-cost Google Cardboard headset, Starship Group hopes to have vTime working on Google Cardboard and available to download from the Google Play Store by Christmas 2015, with iPhone 6 support to follow in the first quarter of 2016.
© Copyright IBTimes 2023. All rights reserved.