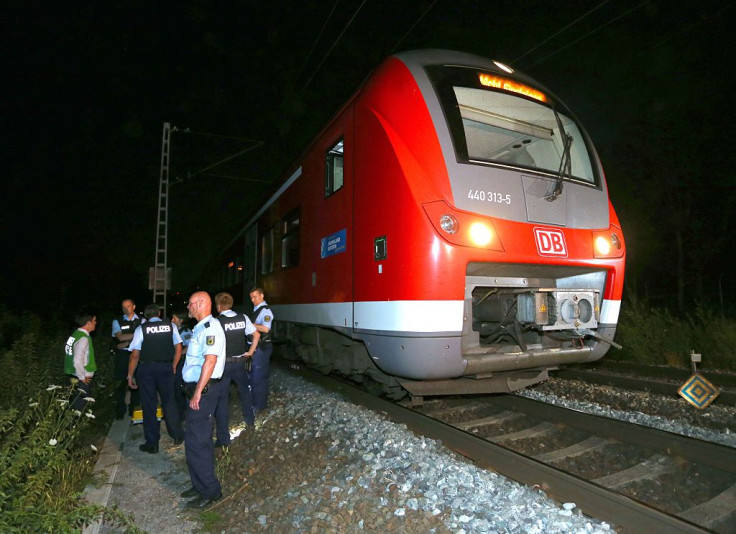 Debate is raging in Germany about whether traumatised refugees seeking asylum are vulnerable to radicalisation, following a brutal knife and axe attack by an Afghan teenager on a train in Wurzburg, Bavaria.
Three people were seriously hurt, one injured in the incident and the teenage refugee was shot dead by police during the attack in the south of the country. Some stress there is no evidence to support a link, however, others argue that unaccompanied minors, such as the teenager who launched the attack, may be at risk to extremist messages due to the lack of psychological and emotional support frameworks.
Though investigators have said that there is no evidence to tie the attacker to Isis networks, they said a home-made Islamic State (Isis) flag was found in his room, leading them to believe he may have been "self-radicalised". IS have released a video which they claim is by the attacker, who pledges allegiance to the group while brandishing a knife.
Investigators have speculated that the death of a close friend in Afghanistan may have left him traumatised and psychologically vulnerable.
Some do not believe that clinical evidence yet supports a link between trauma and being prone to radicalisation.
Others though warned that Isis has deliberately targeted those with mental illness to commit 'lone wolf' terror attacks, and understands their vulnerability.
In the UK, Metropolitan Police assistant commissioner Mark Rowley said in 2015 those Isis was targetting included "very young people and those with mental health issues".
Speaking to Deutsche Welle, Meyer Husamuddin, an imam who works with de-radicalisation projects in the town of Wiesbaden, believes that young unaccompanied refugees may be particularly vulnerable.
"Some of them are in a difficult psychological situation because their parents are often still in danger – and then maybe things aren't going so well here," he said. "Then it can happen that one or two of them become a ready victim for those who want to manipulate them."
And Husamuddin has also noticed that radical Islamists have "discovered that there are certain people who it's easier to provoke into doing things."
He said the only solution is to welcome refugees into the community.
Many refugees spend months unemployed, waiting for their asylum applications to be processed. Germany's internal intelligence agency warned last year that Salafists would seek to spread their hardline vision of Islam by targeting refugees.
In April, German charity Violence Prevention Network launched a project called Al Manara, which is aimed at working with unaccompanied refugee minors. The project is small scale though, and confined to Berlin.
For now, German security services have acknowledged the difficulty of tackling the threat posed by young unaccompanied refugees who may succumb to the lure of extremism, with counter-radicalisation schemes currently aimed at working with the families of those at risk.
"Over the last few years, counterterrorism strategy in Germany has focused massively on working with families to prevent radicalisation taking place," Daniel Koehler, director of the German Institute on Radicalisation and De-Radicalisation Studies told the Guardian. "Preventing radicalisation amongst refugees, however, will require lots and lots of catching up."