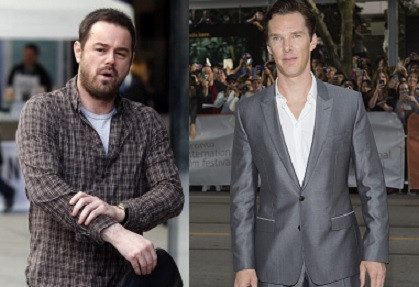 He went from playing the East End hardman in films to the family man in EastEnders and now Danny Dyer is hoping to add detective to his growing CV.
The 36-year-old actor, who plays Queen Vic landlord Mick Carter in the BBC soap, has revealed he would like to play Baker Street private eye Sherlock.
Dyer believes he is capable of taking on the role taken by Benedict Cumberbatch.
"Any actor would love that role. You can't go wrong with it. You're playing a genius, and the speed of the dialogue ... I'm sure it's a tough gig but it's every actor's dream to play that sort of role," he told the Radio Times.
"I know I've got the talent to do it, but I don't think they'd want a slightly cockney Sherlock. I think it works better with the articulation [of Cumberbatch]."
Although he is addicted to the show, Dyer admits he won't be making a beeline for Cumberbatch's job anytime soon.
"I never really entertained it for some reason. Everyone was driving me mad about it and after a time, I decided to have a go on it and I was hooked. I love Martin Freeman, I think he's a really interesting actor and Benedict – it's just a great part. I think he's brilliant."
Sherlock creator Martin Freeman recently revealed that fans could expect a lot of fantastic stories when the show returns for the next series.
"Steven and Mark have a great idea for something we could do next which they told Ben and I. It's a fantastic, really mouthwatering idea.
"But I really don't know when we are going to get to do it. I'm up for it – I'm ready – but it's getting planes to land in order, we just all need to be ready at the same time, " he said.