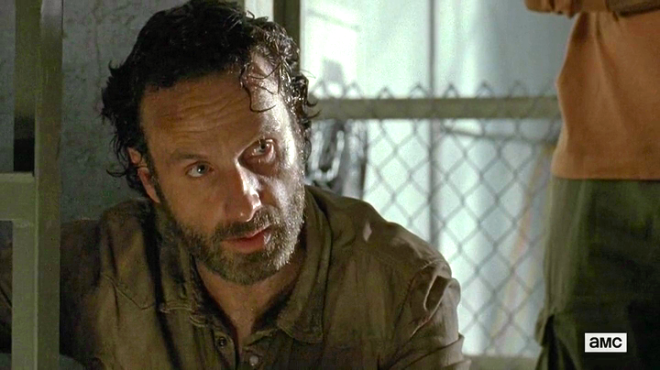 One more episode to go before The Walking Dead airs its season finale next week and based on a newly revealed promotional image, it seems death of a primary character is highly likely.
Before the penultimate Season 4 episode of The Walking Dead (to air today), TVLine posted a first-look photo that shows Rick (Andrew Lincoln), Carl (Chandler Riggs) and Michonne (Danai Gurira) caught in some fog as they prepare to fight something or someone off screen.
The tagline simply reads, 'Who will arrive?' which is the slogan of Terminus - the sanctuary toward which the different groups of survivors are headed, reports Mstars.
Rumours about Rick probably dying towards the end of the season have been doing the rounds of social media. Will it really happen?
Consider what Show creator Robert Kirkman said in his Reddit AMA earlier this week when asked if the main character is safe:
"ABSOLUTELY NOT. Although when I look in Andrew Lincoln's piercing blue eyes I FEEL safe," Kirkman wrote.
Kirkman has previously stated that Rick will likely die before the comic series ends.
When asked to describe the series finale in one word, he simply responded: "SAVAGE" and then went on to state, "people are going to be talking about this one."
"The cliffhanger at the end of season 4 will make the wait between seasons 4 and 5 the hardest wait we've ever had. ENJOY!" he wrote.
He also explained the correlation between a character's popularity on the show and its death:
"In my opinion, I feel like characters ripen like fruit. So while I wouldn't say the more popular a character is the more likely they are to die, they do have to reach a certain level of popularity before they've 'earned' the death. No character is too popular to die."
The Walking Dead season 4, episode 15 titled 'Us' airs tonight (Sunday, March 23) at 9 pm on AMC.
Fans can watch the new episode through live stream on AMCTV.com and iTunes.