The Walking Dead Season 5 Premiere: Where to Watch Episode 1 'No Sanctuary' Online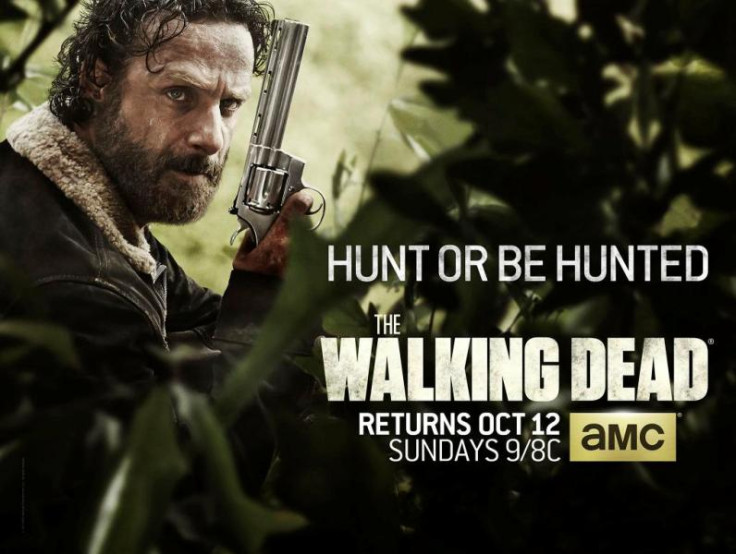 The Walking Dead Season 5 premiere is here! Episode 1 titled No Sanctuary airs tonight and the cast promises, "you'll be crossing your legs and twisting your face away" while watching it – it's THAT brutal.
Ahead of the season premiere the cast and producers of The Walking Dead stopped by New York Comic Con on October 11 where they unveiled the first few minutes of the season 5 premiere. The exciting and horrifying footage was released online via live stream on the NYCC official website. Check it out below:
During the event, when IGN asked where we'd find Rick after the fall of the Ricktatorship and his retreat from leadership, followed by ripping a man's throat out with his teeth, Lincoln confessed that he'd grown tired of Rick "being a farmer," and that the character will really "come into his own" this season.
"I think you meet a man very much at the peak of his powers," Lincoln went on to say. "I've loved playing him this season...he just kills so many...ach!" (Lincoln then stopped himself from spilling any potential secrets.)
Actress Lauren Cohan, who plays Maggie on the series told IGN what fans can expect from the premiere episode:
"Well, firstly 'No Sanctuary' lives up to its name. You should expect no sanctuary," she quipped. "But no, it's hell. It's literally hell. We pick up right where we left off in Season 4 where everyone was hoping to find a place to catch their breath and they haven't. It's a very exciting episode with some good surprises."
Speaking about Terminus, she said, "You will definitely learn about Terminus. Some things you probably wish you hadn't, actually. The first episode back is so disgusting and so scary. I actually think it's one of the scariest episodes we've ever done on the show. And you'll see stuff that you can't unsee. You'll be crossing your legs and twisting your face away so you can only half-watch the TV."
The Walking Dead Season 5 premieres tonight, Sunday (October 12) at 9.00 pm ET on AMC.
Click here to watch the episode online via live stream.
The episode will also be made available online on the AMC official website. You can click here to access.
You can also click here to watch full Walking Dead episodes live stream online.
© Copyright IBTimes 2023. All rights reserved.