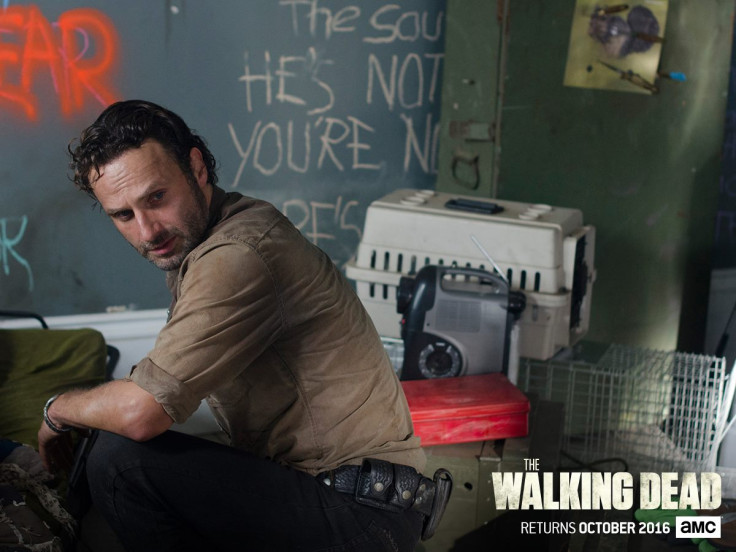 New information about The Walking Dead season 7 has surfaced on the internet and reports of star sightings have led to speculation regarding the victim of the Negan death scene. The dark finale scene from season 6 spurred fury among fans, but the suspense has also generated a huge amount of interest triggering various fan theories.
Warning: Spoilers ahead
The Spoiling Dead Fans, a Facebook group that regularly updates TWD fans about the AMC series, has posted several pictures with confirmed sightings of Norman Reedus and Andrew Lincoln. This also confirms that their respective characters, Daryl Dixon and Rick Grimes are safe from the notorious Savior leader's bat Lucille.
Here is what the fan page wrote:
Today at Alexandria the following characters were spotted: Rick, Daryl, Negan, Dwight, Spencer, and several Saviors. Negan has entered the safezone! He had a large gang of intimidating Saviors with him. Lots of gunfire and yelling was heard throughout the day. Daryl was spotted wearing an interesting outfit. Looks like he traded in his vest and muscle shirt for what looks like a graffiti-ridden prison suit. We suspect filming will resume at Alexandria tomorrow.
Apart from the sighting of the two lead characters, The Spoiling Dead also reported the sighting of Carl, Dwight, Spencer, Rosita, Morgan, Maggie, Tara and several Savior members inside the Alexandria area.
However, the page did not mention anything about Glenn and this has raised suspicion that the series might follow Robert Kirkman's graphic comic book plot and make Glenn the first victim of Negan's brutal attack.
However, Steven Yeun (Glenn) has previously insisted that the TV show may not follow the comic book plot.
The show's executive producer Greg Nicotero, meanwhile, has hinted that the seventh season of the post-apocalyptic zombie thriller will have a whole new world, especially after the epic Negan-Rick encounters that resulted in bloody deaths.
"The main thing about Season 7 is establishing that the world isn't what everybody thinks it is, the world out there. At the end of Season 6, Rick was so confident. 'We're just going to knock out that outpost, we're going to f–k these guys up before they f–k us up,' and it ends with him going, 'Heh, oh well, I had no idea. What I perceived as the world is not even close to what the reality of the world is,' and Negan's there to show him that," he told IGN.
"Season 7 of The Walking Dead, there's all new worlds that we're going to meet, so it wouldn't have made sense to end a chapter and then start it halfway through the next chapter. You want to end in one place and pick it up."
TWD season 7 will premiere in October on AMC.