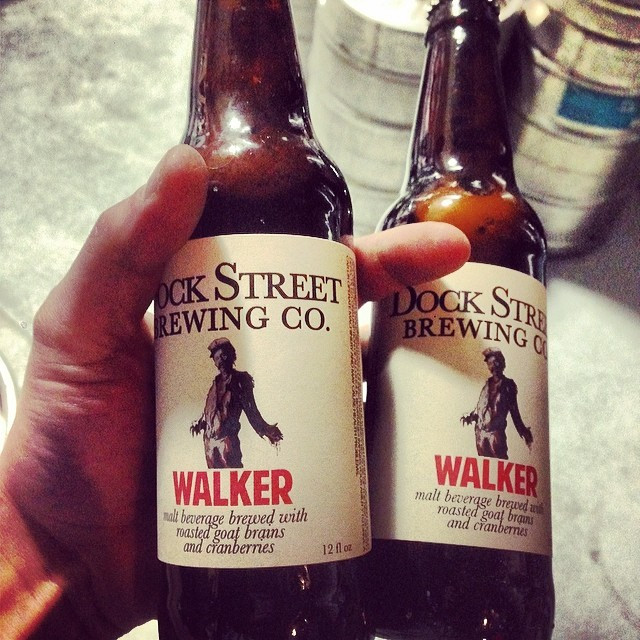 Beer brewing with brain! That's right, a unique blood red beer brewed with smoked goat's brain has been created by a Philadelphia brewery to offer its tribute to the finale of the Zombie horror drama The Walking Dead.
Dock Street Brewing Co is celebrating the finale of the apocalyptic drama by making a beer with cranberry base to give it that creepy blood red color and brewed it with malted wheat, oats, flaked barley and the special ingredient, some smoked goat's brains.
The beer has been named as 'Walker' by the Dock Street and claims to be "the smartest beer you'll ever drink" by its makers.
"The pre-sparge-brain-addition provides this beer with intriguing, subtle smoke notes. In true walker fashion, don't be surprised if its head doesn't hang around forever," said the brewery in its press release.
"Brewed in honour of our favorite post apocalyptic drama...ever. The base of this unique brew is an American Pale Stout, conditioned over Organic Cranberry. The kicker: smoked brains. No joke. Join us March 30 as we debut this never-before-done brew for the season finale of #thewalkingdead," the brewery said in its Facebook post.
The creator of the Walking Dead has warned viewers of some shocking moments ahead of the series finale 'Terminus'.
"I think there are some big questions that are asked that are going to be answered in this final episode" series creator Robert Kirkman told Entertainment Weekly.
The Zombie-friendly beer will debut on 30 March, the final date of the Walking Dead 'Terminus'.