A terror gang from Walsall has been jailed for helping suspected Islamists travel to Syria to fight for Islamic State (Isis). Ringleader Ayman Shaukat, Alexander Nash, Lorna Moore and Kerry Thomason were all jailed for between 30 months and 10 years on offences including organising travel to the war-torn country.
The women in the group were convicted of helping their respective husbands – Sajid Aslam and Isaiah Siadatan – travel to Syria, where they are believed to have committed acts of terrorism.
Aslam and Siadatan are thought to have joined another man known by the group, Jacob Petty, there.
Shaukat, 28, was jailed for 10 years and given five years on extended licence after being found guilty of helping to facilitate a network to enable people to travel to Syria and engage in terrorism.
Fellow defendant Nash, aged 22, was jailed for five years and handed an additional year on extended licence, after pleading guilty at an earlier hearing to preparing for acts of terrorism.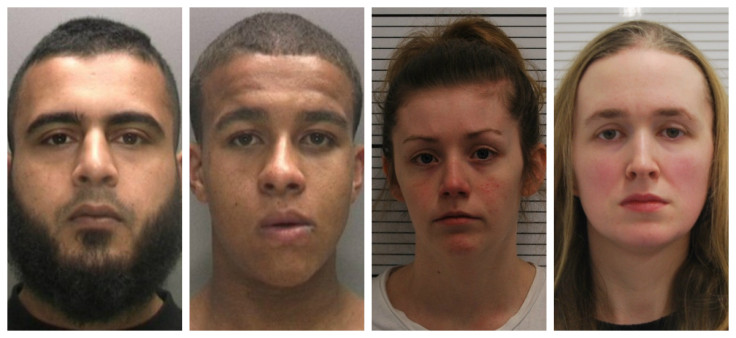 Moore, aged 34 – who is married to Aslam – was sentenced to two and a half years after being found guilty of failing to disclose information about her husband's planned travel to the conflict zone.
Thomason, aged 24, was given a two-year suspended sentence and a curfew and tag for six months, after pleading guilty at an earlier hearing to assisting her husband to travel to Syria and engage in acts of terrorism.
West Midlands Police closed in on the group after the parents of terror suspect Petty contacted detectives. They then discovered Shaukat had an instrumental role in helping organise travel plans for other members of this group, including Nash and Aslam's preparation for acts of terrorism.
Further investigations revealed both Thomason's role in assisting her husband plans to prepare for acts of terrorism and Moore's knowledge of Aslam's preparation for suspected engagement in terrorism.
Assistant chief constable Marcus Beale, who leads on counter-terrorism across the West Midlands, said: "This was a complex and protracted police investigation by a small team of dedicated officers from the force's CTU. The investigation identified a number of people intent on travelling to Syria including vulnerable children to a conflict zone and be exposed to many dangers. Officers managed to intercept and disrupt further plans to travel."